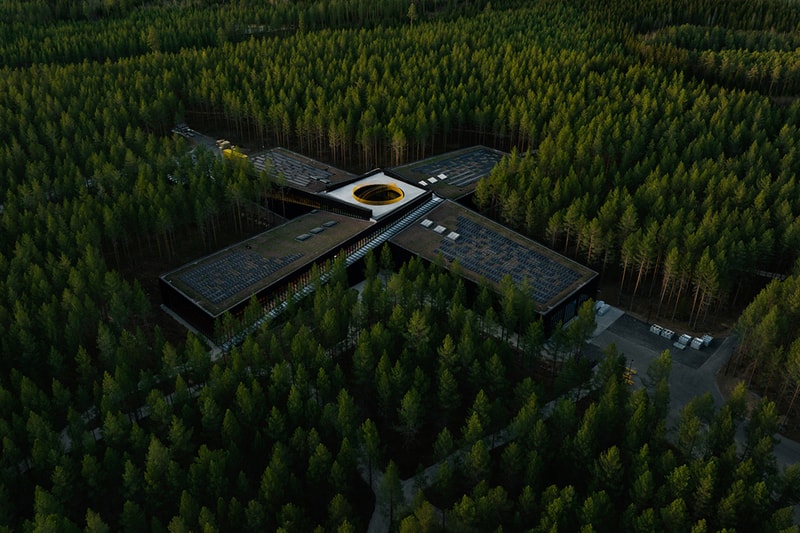 Danish architectural firm Bjarke Ingels Group (BIG) has created a new factory for outdoor furniture manufacturer Vestre, which it claims to be the most sustainable of its kind in the world. Located in the forest in Magnor, Norway, the building has been designed to have four arms that meet at a central point, a feature from which it gets its name, "The Plus".
BIG and Vestre began work on the project 18 months ago, and have put sustainability and environmental considerations central to all aspects of the design and its surroundings. The investment of almost 300 million NOK (approximately $31,680,300 USD) makes The Plus the single largest investment in the Norwegian furniture industry in decades.
Its four wings provide four different uses: the Color Factory; the Wood Factory; an assembly space, and the warehouse. Each leads to a central courtyard. Despite its location in a public forest, there are no fences or borders – in a nod to the Norwegian concept of "right to roam", or "Allemannsretten". Visitors can access the roof terrace and are able to go inside the centre to learn about energy production, energy recovery, water purification, and the life cycles of the materials used in the production.
Stefan Tjust, CEO of Vestre said:
"The Plus is a factory for the people! It is a project we have put an enormous amount of soul and energy into. This is an important day for us, but also for the Norwegian mainland industry and the Scandinavian export cooperation."
In terms of its sustainability credentials, its energy consumption is 60 per cent lower than that of similar factories, and its greenhouse gas emissions are 55 per cent lower. Its roof is covered with natural forest vegetation, which sits amongst 900 solar panels that supply energy to the building. Furthermore, the factory will reuse 90-95 per cent of the water used in the production.
David Zahle, Partner at BIG Added:
"Playfulness, democracy, and sustainability are at the heart of the Vestre brand and everything they do; our wooden, colourful factory in the middle of the Norwegian woods – surrounded by a public forest park where the local community can come to experience the gigantic Vestre furniture pieces sprinkled throughout - lives and breathes this philosophy."
In other architectural news, in Rotterdam Dutch firm MVRDV has created a bright orange rooftop walk for Rotterdam, which spans 600 meters and offers views of the city from above.
HYPEBEAST Design offers a platform for projects to be featured. For more information, please email design@hypebeast.com
Click here to view full gallery at HYPEBEAST