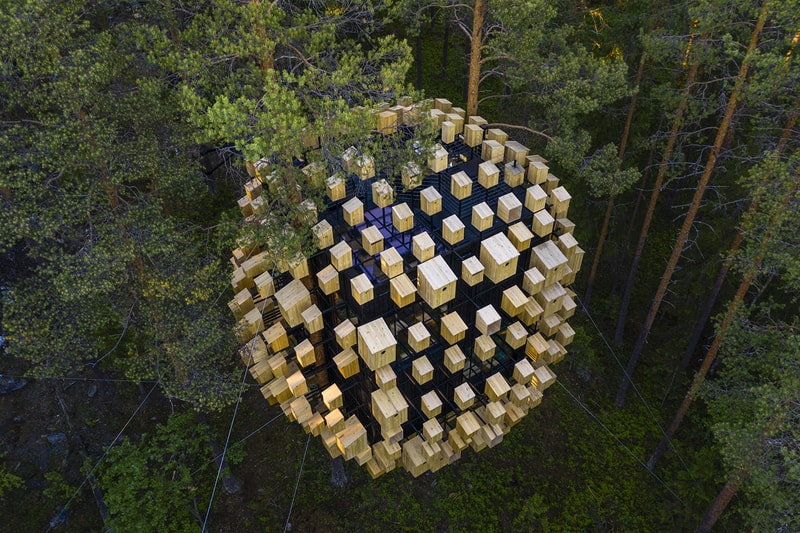 Bjarke Ingels Group (BIG) has completed a treehouse hotel room in Swedish Lapland, creating a spherical cabin that is covered in 350 bird houses. Named "Biosphere", the design is suspended amongst the trees of the Harads forest and is the latest addition to the Treehotel resort.
The Danish architecture firm is the latest to take on the task of creating a room for the Treehotel, which is known for its impressive roster of cabins created by some of Scandinavia's leading architects. Each room is designed to interact with the forest in a different way, and each carries its own distinct identity.
For its design, BIG has created an orb-like structure with an exterior covered in 350 bird houses. The team worked alongside Swedish bird expert Ulf Öhman, and hope that the Biosphere will increase the population of birds in the woods.
Öhman explained:
"The installation of bird nests is an important measure to take. Furthermore, climate change leads to the insect boom happening earlier in the year, and by the time the birds' eggs hatch, the boom has already passed. Feeding is an important support mechanism for the birds that stay in Northern Sweden and require food during winter.

Demonstrating the use of bird nests and feeding, not just at the Treehotel but for people to install near their own homes, is valuable. An initiative from Treehotel to take such measures may inspire their visitors to do the same."
Visitors enter the Biosphere via a suspended bridge. Inside, they are transported into a space that feels moody and secluded – with dark-toned interiors and organic materials inspired by the fullness of the surrounding woods. Albeit small, the room has everything needed for a luxury hotel stay, including a roof terrace that offers panoramic views of the landscape.
Bjarke Ingels' eponymous firm has revealed some high-profile profile projects of late – from the completion of the "world's most sustainable factory" in a Nordic forest, to a floating city in Busan, complete with winter gardens, restaurants, and homes for 12,000 residents.
Click here to view full gallery at HYPEBEAST