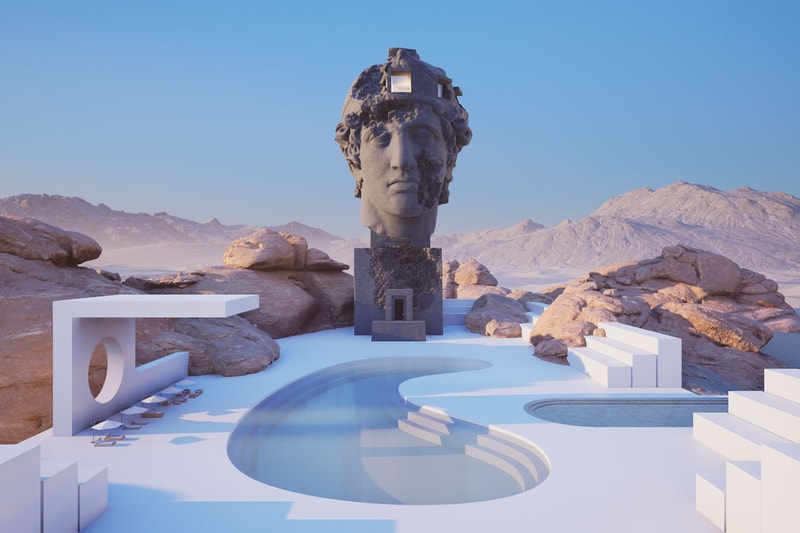 In a collaborative effort between The Alexander Team and Everyrealm, a metaverse real estate development firm, comes the launch of 'The Row," an exclusive collection of metaverse real estate featuring architecture designed by a variety of talented artists. The 30-piece collection made up of one-of-one NFTs will live on the Mona platform.
"The metaverse has no physics, no weather, and no limitations other than human ingenuity," said Everyrealm CEO Jannie Yorio, adding "The Row brings together visionary artists best known for their architectural landscapes and collectors seeking a unique, limited edition residence that they can deploy across many different metaverses over time."
The awe-inspiring works are designed by artists Daniel Arsham, Misha Kahn, Andrés Reisinger, Alexis Christodoulou, Six N. Five, and Hard. The artist's works will each be sold as one-of-one NFTs later this year and are available on an invite-only basis through an application process on The Row's website.
Hosting The Row's first builds will be metaverse world-building platform Mona, with a future goal of interoperability and deployment of the structures across a variety of metaverse platforms.
Introducing The Row.

Architecture designed by artists in the metaverse.

Request your invitation: https://t.co/C3gMA6jVr3

▪️ @DanielArsham
▪️ Misha Kahn
▪️ @SixNFive
▪️ @reisingerandres
▪️ @AlbadlFuente
▪️ @teaaalexis
▪️ @HARDMETAVERSE @everyrealm x @AlexanderTeamRE pic.twitter.com/dOr2wQZeJu

— Everyrealm (@Everyrealm) July 26, 2022
In addition to producing works for The Row, Arsham also serves as the creative ambassador for Everyrealm and is the founder of Snarkitecture, a New York-based collaborative design practice that explores the boundaries between disciplines. The convergence of his unique experience with physical works, interior design, and NFTs can be seen in the creation of his works for The Row.
"In the metaverse, one does not need to adhere to the many constraints that exist when creating spaces, exhibitions, and art works in the physical world," said Arsham, adding that "when designing for The Row, I considered how my sculptures would appear from inside this unique piece of architecture. I explored the possibility of seasonality; how I might be able to alter the seasons, and how the design could remain in existence in both a daytime or a nighttime environment forever."
According to The Alexander Team, one of the main concepts behind The Row was to create a metaverse experience for its existing clients that matches the level of curation, exclusivity, and value of the real estate they own in the physical world. The Alexander team is known for having some of the most high-profile clients, highest value properties, and collectible trophy-quality real estate. It now aims to have The Row become "the most high profile real estate development across many metaverses," in a series of iconic landmarks that will be accessible on a global scale.
With the popularity of the metaverse on the rise and an increase in Web3 adoption, the project creators have picked up some significant support. Backing Everyrealm are names like a16z, Coinbase, Dapper Labs, The Weekend, Marc Anthony, Paris Hilton, and more. In addition, the project's host platform Mona has recently raised nearly $15 million USD in an oversubscribed Series A funding round, setting it up for continued scalability.
Mona will be home to #TheRow ✨

A limited-edition series of 30 3D architectural landmarks, each sold as a 1-of-1 NFT, co-developed by @AlexanderTeamRE and @Everyrealm.

Learn more about the new members-only community ➡️ https://t.co/sCFlWkCDMy pic.twitter.com/yjYIAkLx86

— Mona (@monaverse) July 26, 2022
Elsewhere in Web3, Highstreet X 8-Bit transform major retailers into metaverse entryways.
For more news about blockchain, cryptocurrency, NFTs, and Web3, visit Hypemoon.com.
Click here to view full gallery at HYPEBEAST