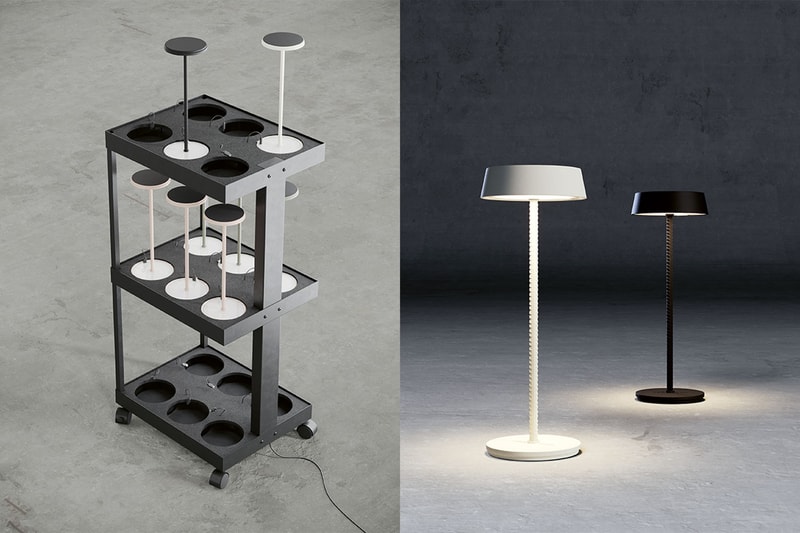 Diesel's homeware brand "Diesel Living" and Italian lighting brand Lodes have unveiled the latest piece from their collaborative collection. Launching during this year's Milan Design Week, the "Rod" lamp caters to the increasing demand for cordless, rechargeable lighting, and takes on an industrial-looking form.
Rod's light source is powered by LEDs that emit a soft glow from underneath its shade. Overall, its design is intended to be subtle, with colour options in Moss Gray, Soft Pink, Ivory, and Dark Asphalt shades. Its lack of wires and plugs allows it to be used in a number of settings and places – from hard to reach shelves in the home, to the middle of tables in restaurants.
Form-wise, the lamp takes its design cues from the metal bars used to reinforce concrete structures. Its shade and base are intended to appear as two concrete slabs, with the connecting body taking a more literal depiction of a textured metal rod.
The lamp has an 8-hour battery life while on maximum power, and up to 180 hours on minimum power. To adjust the light level, users simply tap on the top of the shade, and to charge it, a USB lead is inserted into a rubber-covered charging port.
Rod is set to launch during this year's Milan Design Week, or Salone del Mobile, which takes place across the city from 6 to 12 June. Diesel will present the design at the new Lodes showroom in the Brera district, which is housed inside a historic building that was once a barracks for Napoleon's cavalry, a military bakery for the Austrian Government, and also the home of the Banca Popolare Commercio e Industria after the Second World War.
Other designers set to launch new collections during the festival include Lee Broom, whose new set of "Divine Inspiration" lamps will be presented in a theatrical installation inspired by places of worship.
HYPEBEAST Design offers a platform for projects to be featured. For more information, please email design@hypebeast.com.
Click here to view full gallery at HYPEBEAST