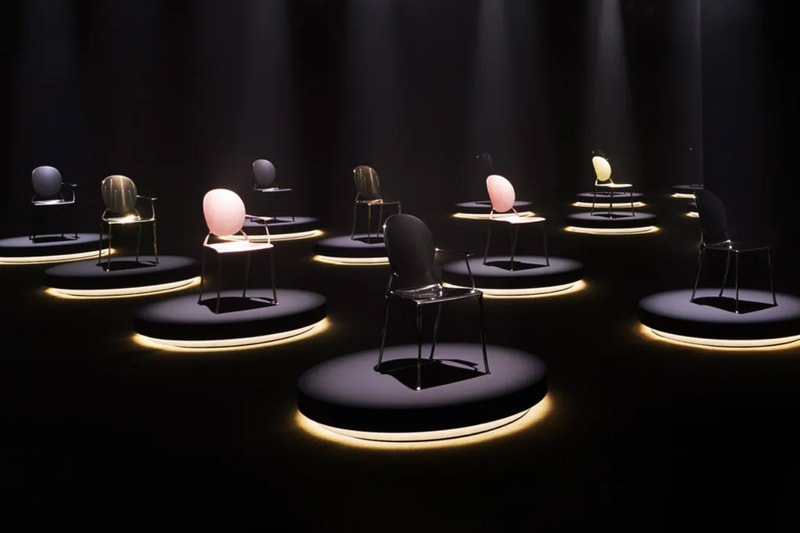 For Salone del Mobile 2022, Dior Maison has invited internationally-renowned luminary Philippe Starck to reinterpret the timeless Médallion seat.
Starting with core elements of the French House, Starck dreamed up the Miss Dior chair, paying tribute to a distinct feminity with an elegant construction and virtuoso craftsmanship. The visionary, inspired by a "passion du minimum," sought to accentuate the chair's ethereal nature by stripping the silhouette down to its simplest form, placing emphasis on its unique curves and aluminum composition.
The collaboration unfolds across three distinguished models — the first boasts only a single armrest and the second hosts two, while the third bears only the seat and its rounded back. Made in Italy, the idiosyncratic piece is a product of the designer's quest to concoct an eternal model, with the concept of longevity at its forefront.
Notably, the collection evokes a memory of a particular Marlene Dietrich photograph. "We all drew this historical icon with our memory," notes from Dior read. "I explored mine. The conscious and unconscious signs emitted by the House of Dior are part of my own mental heritage: this collaboration was extremely natural for me, confides Philippe Starck."
Each Miss Dior chair by Philippe Starck arrives in three different shades: black chromium, pink copper and gold. The collection is now available on Dior's website. Take a look at each iteration above.
Elsewhere, Casablanca has tapped Butterfly for an $18,000 USD pastel ping-pong table.
Click here to view full gallery at HYPEBEAST