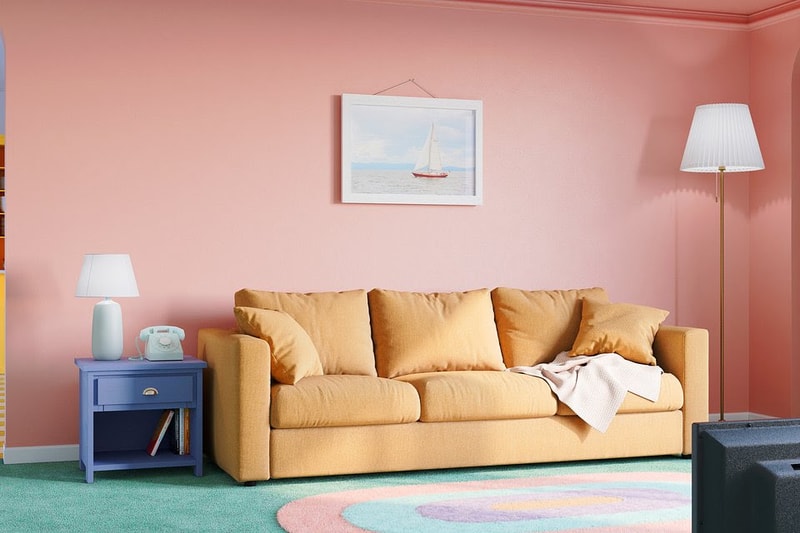 Bobbi Beck, an emerging print and design studio based in Cornwall, has recreated one of the most well-known living rooms in television history -- the one belonging to The Simpsons.
"When we decided to bring to life the living room of 742 Evergreen Terrace, we knew that we had to pay respect to such an iconic room. However, this was tricky when it came to managing the bright colours in the home," explains the studios' Creative Director James Mellan-Matulewicz.
He added, "In reality, pink walls, green carpets, purple cabinets and a brown sofa don't look very nice together, so it was a real challenge keeping the living room tasteful, while still recognizably The Simpsons'."
Despite the challenging clash in aesthetics, Bobbie Beck has arguably pulled it off. The vision is definitely there, but by using contemporary furniture and a few kitsch touches, it comes together. So, the three-seater couch is contrasted by a lilac side-table, which on top of it sits a mid-century modern-inspired lamp and an old-school telephone. A pleated lamp shade, sea-green carpet and a rug that compliments everything thanks to its pink, lilac and orange tones round things out.
Take a look at The Simpsons' IRL recreated living room by Bobbi Beck in the gallery above.
In case you missed it, HYPEBEAST caught up with Vaspaar Gallery, a Milanese gallery that's catering to new-gen design collectors.
Click here to view full gallery at HYPEBEAST