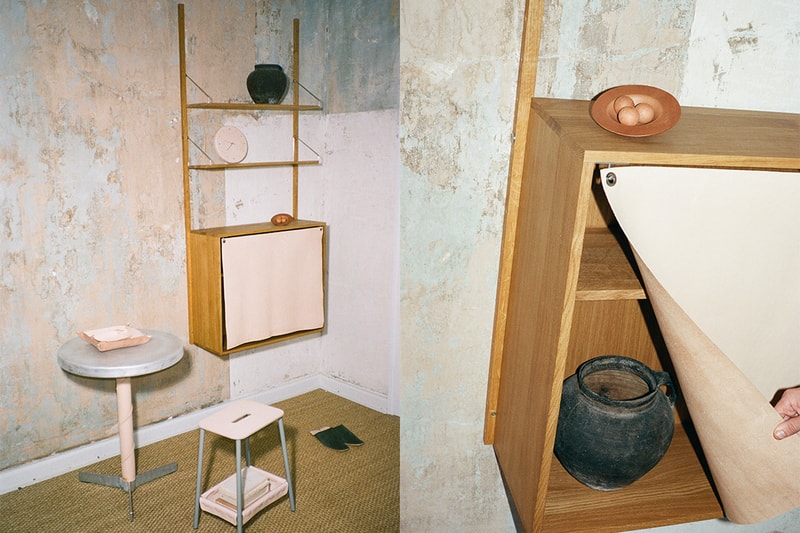 Danish furniture brand FRAMA has teamed up with Hender Scheme to create a new collaborative collection that sees some of its old pieces reimagined, alongside brand new ones.
The collection, launching on August 9, came about via a "mutual admiration" between the brands. "We wanted to include the categories FRAMA continuously focuses on — furniture and home objects – however, we also wanted to create something new together, a first wearable object in FRAMA's case, which are the leather slippers, which combine the two brands' universes," says Frama founder Niels Strøyer Christophersen.
Throughout, materials are left looking raw and untreated – from clay to vegetable-tanned leathers. The "Shelf Library Cabinet" cabinet is designed to fit into the storage system of the same name, which already exists in FRAMA's collection. Its doors are made in the form of a thin leather curtain, which is paired semlessley with its slim oak frame. Also making use of the leather is the Adam Stool, which was first designed by Toke Lauridsen for Frama in 2010. Lauridsen's inspiration was founded in industrial design, and the designer looked to artist studio spaces when coming up with the stool's form. For this collection, the seat's frame comes in Hender Scheme's signature gray color, with a thick leather basket nested underneath.
A lightweight aluminum table named Tasca has been inspired by local Portuguese taverns of the same name, and for the collaborative collection, it has been updated with a spiraled leather piece twisted throughout its aluminum stand. The inspiration for this comes from Hender Scheme's own flagship stores, where this twisting detail features on fixtures throughout.
From larger furniture pieces to homeware goods, the collection is completed by a clock, tray, slippers, and scent diffuser. The clock is crafted from leather and cut-out detailing; the tray is made from thick leather turned up at its sides; the scent diffuser contains three red spheres made from Korean soil, and the slippers feature a square toe silhouette designed by Hender Scheme for this collaboration.
"The natural, raw and untreated materials such as wood, aluminum, and clay characteristic of FRAMA's universe blend seamlessly with Hender Scheme's signature neutral-tinted and vegetable-tanned leathers. A collection spread across a curated range of items creates a unified scenario," say the brands.
Hender Scheme x FRAMA Collection will be released on August 9 and will be exclusively available in Japan via Hender Scheme at henderscheme.com and worldwide via FRAMA at framacph.com. Prices range from €89 to €2,675 (approximately $90 to $2,744). Elsewhere in design, a series of furniture pieces that prioritise materiality have gone on show in London.
Click here to view full gallery at HYPEBEAST