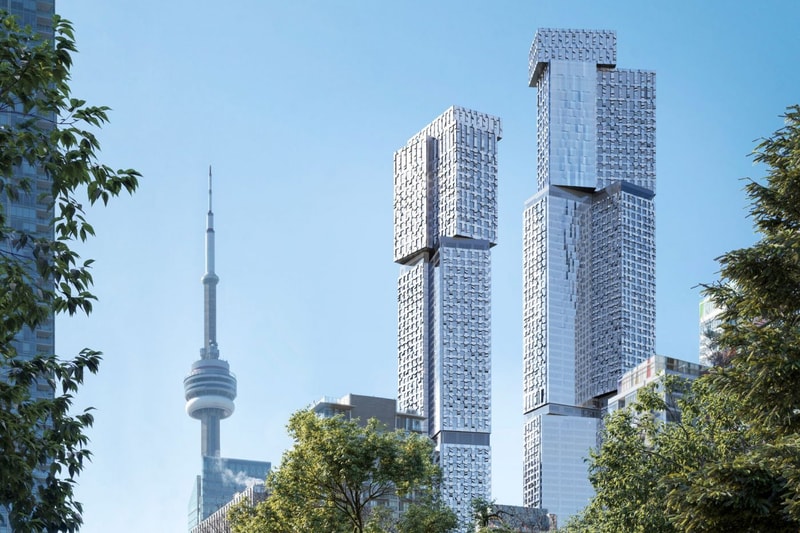 Canadian, award-winning architect Frank Gehry is reaching for new heights with the reveal of his latest project — two towers over 250 meters tall, the tallest residential buildings designed by Gehry to date.
This project has been in the works for about a decade now and Gehry has finally unveiled the visuals, details, and dimensions. The two towers will be built in Toronto, Canada, with interiors styled by Paolo Ferrari. The eastern tower will reach 262 meters and the western tower will reach 298 meters, almost crossing the threshold of "supertall" skyscraper classification.
The towers will be situated on King Street West in Toronto, with the bustling city center making for an ideal backdrop for this development. Both architectural feats will act as residential luxury condominium units as well as branches of the Ontario College of Art and Design campus.
The unprecedented towers are characterized by offset blocks that stack on either side of the voids, resulting in a dynamic visual aesthetic. Both will show off brilliant, reflective glass surfaces juxtaposed with shiny stainless steel sculptural elements. Gehry wanted the buildings to mirror the traits of the city of Toronto itself, so individualistic building quirks nod to different qualities that are unique to the city.
To further encompass Canadian heritage, the skyscrapers include artistic influences from Canadian artists, such as images inspired by the Group of Seven collection. Ferrari gave the spaces some personality by installing earth-toned wooden panels, inset lighting, plush finishes, and whimsical Scandinavian furniture, but Gehry brings it back home with eccentric installations, including a glimmering maple leaf motif.
The grand project, backed by Westdale Properties and Dream Unlimited, is projected to be completed by 2028.
In case you missed it, Vitra revived a timeless furniture design classic.
Click here to view full gallery at HYPEBEAST