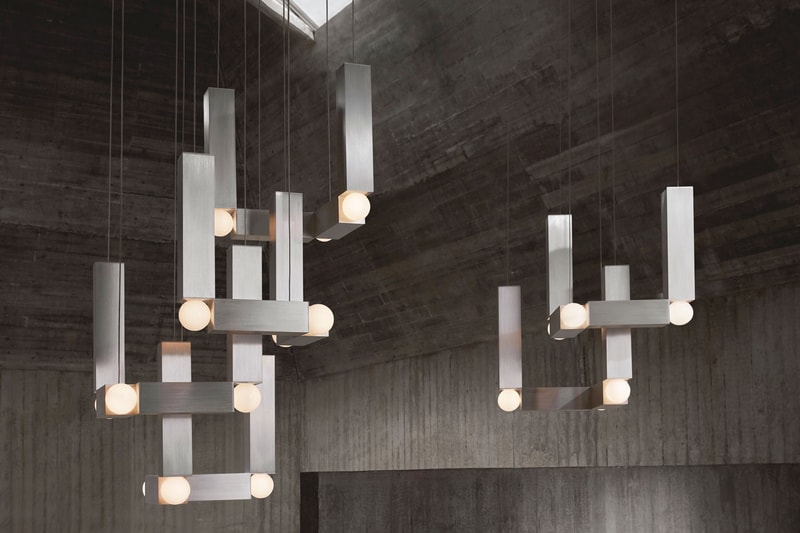 British designer Lee Broom looked to the forms and shapes found in different places of worship for his latest collection of lights. Aptly named "Divine Inspiration", the collection marks Broom's first series of lamps in four years and will go on show during the upcoming Milan Design Week.
As a starting point for the collection, Broom spent time reflecting on the things that first inspired him when he started his eponymous brand 15 years ago. Arriving at the Brutalist architecture movement, Broom began to explore different buildings across the world that were designed in accordance with its use of blocky, straight surfaces and heavy-looking materials.
He said:
"Delving deeper my attention became engaged with brutalist places of worship. This led me on a fascinating journey to researching cathedrals, temples, and churches from antiquity to mid-century, to the present day.

I wanted to create a lighting collection that invoked that same sense of awe and mysticism as those buildings and their interiors. This is not a religious collection, but a reflection on the impact religious architecture, interiors and artefacts have had on the psyche as well as the history of art and architecture."
For the new collection, Broom has devised 30 new pieces in multiple configurations, finishes and materials. Silhouettes are pared back, and simple geometries are favoured. One piece in particular, "Vesper" has been made from extruded aluminium and sees interconnected rectangular frames adorned with illuminated spheres. Suspended by cables, Vesper comes in the smaller "Duo" size, or larger "Quattro" size, and is available in anodized brushed silver and brushed gold.
Inspiration for other pieces in the collection ranges from The Pantheon in Rome, which has informed a range of cast Jesmonite ceiling lights, to mid-century wooden alters that were the impetus behind a fluted pendant in carved oak.
Completing the collection will be a series of limited-edition pieces that he has hand-sculpted in his London factory. Here, Broom has revisited an old technique developed during his time at Central Saint Martins, in which he dipped hand-draped fabrics into plaster, before allowing them to set around rings or spheres to create the illusion of weightlessness. He will release one for each of his brand's 15-year existence.
Broom's "Divine Inspiration" collection will be on show in the Brera district of Milan during this year's Salone del Mobile furniture fair, which runs from June 6 to 12.
Lee Broom, Divine Inspiration
Via Palermo, 11
20121
Milan
HYPEBEAST Design offers a platform for projects to be featured. For more information, please email design@hypebeast.com.
Click here to view full gallery at HYPEBEAST