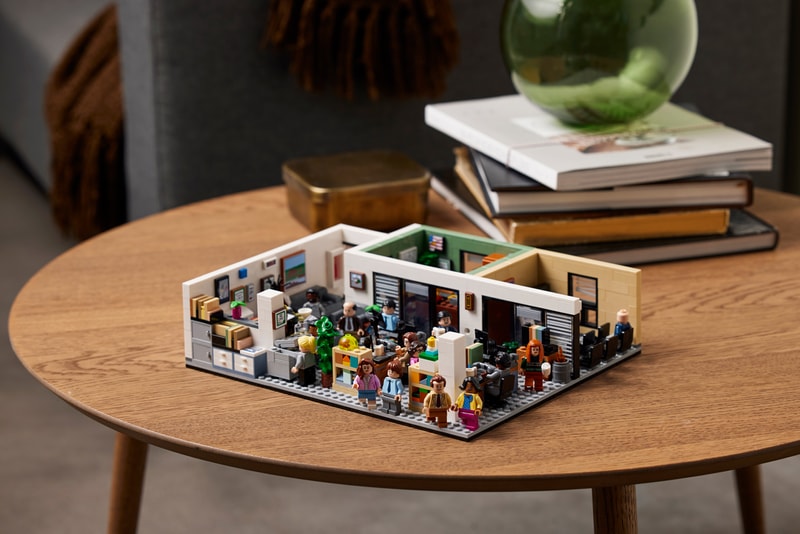 LEGO introduced the LEGO IDEAS line as an opportunity to bridge the gap between fans and LEGO designers. The platform allows builders of all ages to submit designs that are then reviewed by the community to determine interest in the concept. Upon reaching 10,000 "supporters," these designs are then reviewed by LEGO to decide whether or not to take the idea to market. Over the years this has resulted in plenty of fan favorites including the Friends themed "Central Perk" and a three-dimensional recreation of Vincent Van Gogh's "The Starry Night." Now, after two rejected attempts from 2015 and 2019, LEGO fan designer Jaijai Lewis finally gets to see The Office come to life in the world of LEGO.
Composed of 1,164 pieces and a lineup of fifteen minifigures, LEGO did not hold back in celebrating The Office. Michael, Dwight, Jim, Pam, Ryan, Angela, Oscar, Kevin, Stanley, Kelly, Phyllis, Meredith, Creed, Toby and Darryl, plus a LEGO figure of Garbage the cat are all included with accessories that reference some of the most hilarious moments from the show. With this set fans can recreate the reception area, Michael's office, the conference room and two desk islands. Packed with references to the show, fans of all ages are sure to recall memorable scenes when building and playing with this display model.
Fans of the classic sitcom can pre-order LEGO's The Office set now via LEGO at a price of $120 USD. Its official release date is set for October 1 via LEGO stores internationally alongside launching as a Walmart exclusive stateside. Check out the entire detailed look at the long-awaited model above and see how many references you can spot.
In other LEGO news, the LEGO ICONS line takes on Chevrolet's 1969 Camaro Z28.
Click here to view full gallery at HYPEBEAST