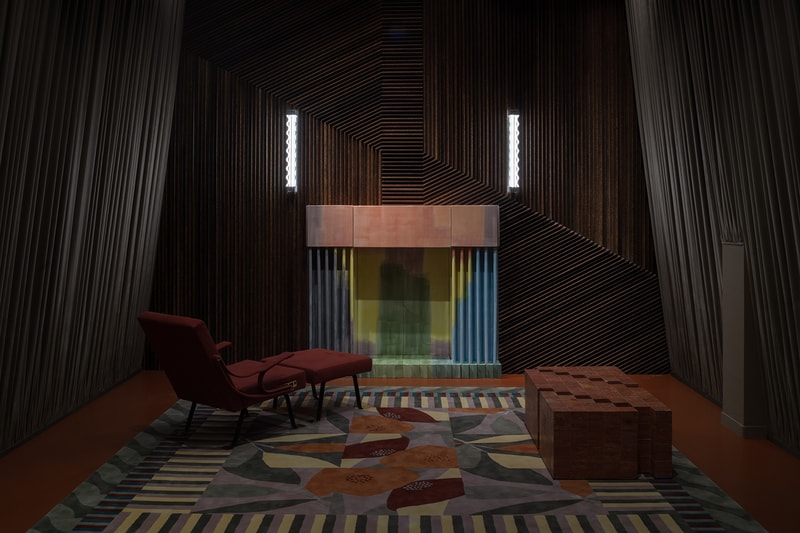 The design studio of Academy Award-nominated director Luca Guadagnino has unveiled a collection of furniture inside an installation that takes its cues from the work of Italian architectural icon Carlo Scarpa. On show during this year's Milan Design Week, the 'Accanto al Fuoco' show is centred around two living room mockups inside the Spazio RT gallery.
Across the installation is coffee tables, fireplaces and wood panelling designed by Studio Luca Guadagnino and produced by Spazio RT, carpets produced by La Manufacture Cogolin, glass sconces by FontanaArte, and ceramics by Italian American artist Francesco Simeti. The studio has also paired vintage furniture pieces alongside the new collections - in a bid to create an aesthetic that is inspired by Scarpa's work.
Upon entering the gallery, visitors see a room divided subtly into two halves. Both feature a fireplace and furniture set up but have differing design identities. To the left, the studio has based the room around a grey fireplace, made with Ceppo di Grè stone, while the other featured in the room on the right is made from fluorescent ceramic. On both sides, light fixtures are mounted on the wall, some vintage, and others designed by the studio for FontanaArte.
The walls upon which the respective fireplaces are mounted are lined with boiserie – one side is made from palm wood and the other of oak. Coffee tables in black granite and in red travertine sit upon wool and silk carpets and were designed alongside Northern Irish graphic designer Nigel Peake, who also created the titles for Guadagnino's HBO television series, We Are Who We Are, and woven by the La Manufacture Cogolin. "We were reflecting on the idea of the flowery Persian carpets and how to make them today—a modern view that is a bit rock'n roll," Guadagnino says.
Ceramic floral sculptures by Italian-American artist, and close friend of Guadagnino's, Francesco Simeti, also feature. Vintage pieces include a sofa, three chairs and an ottoman by mid-century Italian designer Ignazio Gardella, from 1957.
Both parts of the installation are drawn together through the coverings of two walls and the ceilings, which have been decorated with pleated grey velvet using a technique known as "calico plissettato", inspired by a Scarpa-designed scenography for an exhibition that took place in Sicily in 1953.
Of the installation, Guadagnino said:
"For my entire professional life in cinema, I have worked in the creation of two-dimensional spaces. Interior architecture is about three-dimensional space, and there are so many variables and values at stake—most importantly, making sure that decoration becomes an essential element to the creation of the space and not just something that is stitched on top.

I love space, and how to inhabit it with form and light and make it available for someone to experience. And I love craftsmanship and artisanal expertise, and being able to collaborate with such fantastic, really rare people who work in craft."
'Accanto al Fuoco' is on show until June 12, as part of Milan Design Week. Elsewhere in the city, OMA and Sabine Marcelis have teamed up to create a series of monolithic works from marble and onyx.
Spazio RT
Via Fatebenefratelli, 34
20121 Milano
Click here to view full gallery at HYPEBEAST