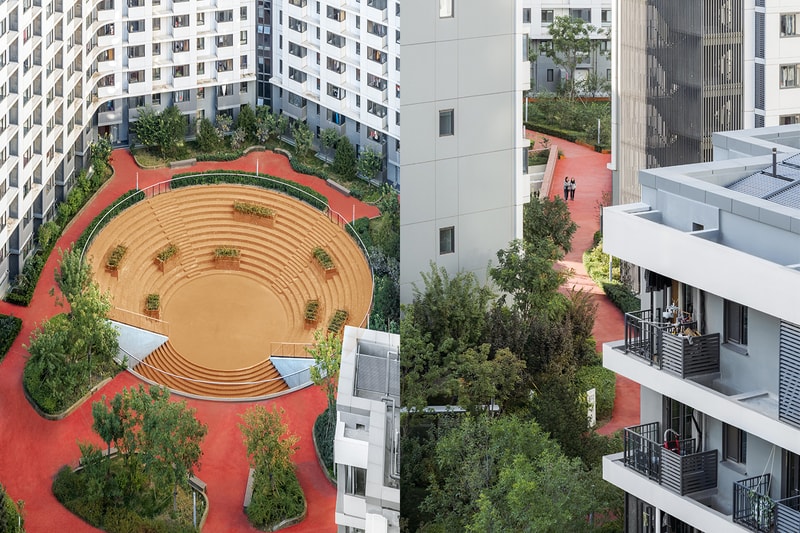 Beijing-based practice MAD has revealed its first-ever affordable housing project, which is comprised of 12 residential buildings that contain homes for 4,000 households. Named "Baiziwan Social Housing", the estate's location is nearby to Beijing's Central Business District and has been designed to integrate into the surrounding urban landscape.
The project comes as a result of MAD's extensive research into social housing, which has seen the practice and its principle Ma Yansong look into the historical development of social housing in different countries and regions. In 2014, MAD was invited to design this particular project by Beijing's Public Housing Center, in a bid to improve the living conditions of low-income communities.
The scheme sees the 93,900 square-meter plot divided into six key blocks. A main street cuts through the site's center and contains shops, cafes, restaurants, kindergartens, pharmacies, bookstores, and elder care facilities. A residents-only area on the second level is home to a communal outdoor space and includes a gym, community gardens, badminton court, children's playground, ecological sanctuary, and communal support services.
Each of the residential buildings are complete with simple white facades, and are intended to appear as an "undulating mountain" that adds to the existing skyline. The residential units are comprised of six general typologies and three ultra-low energy consumption typologies, and each is designed to ensure sufficient sunlight reaches throughout the entire space. would get sufficient sunlight. "The resulting scheme, therefore, adopts a Y-branch building form, with communal corridors located along the north face of each building to enhance sunlight exposure in the residential units," the practice adds.
On the design, MAD said:
"Over the past decades, China's residential design and market have shifted dramatically. Rapid real estate development has led to the homogenization of residential design. Welfare-oriented housing development has not been considered a priority during the housing privatization period. Entering the new era that China advances its investment in social housing, for existing low-income urban dwellers and influx of migrants, MAD aspires to offer a design solution for a more humane, equal, and vibrant living environment.

Human is the aim of habitat. The notion encompasses dignity and social equity. The design concept for Baiziwan Social Housing integrates affordable housing communities with a universal ideal for dignified living. It is achieved by a simple aesthetic. Baiziwan Social Housing is an important step forwards ideal living in China."
In other architecture news, Danish architectural firm Bjarke Ingels Group (BIG) has created a new factory for outdoor furniture manufacturer Vestre, which it claims to be the most sustainable of its kind in the world.
Click here to view full gallery at HYPEBEAST