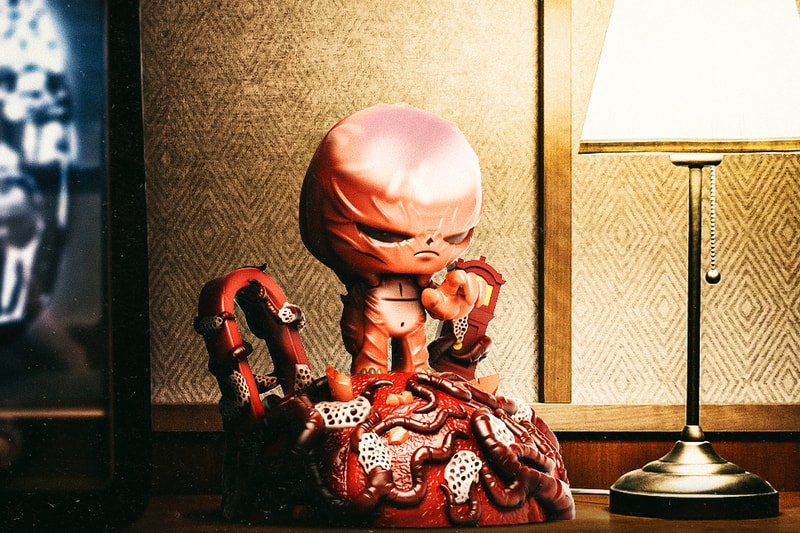 Hot off the release of Netflix's Stranger Things 4 Vol. 2, Mighty Jaxx debuts an exclusive collectible in its first ever collection for the hit TV show. The collaboration has been a long time coming, and will bring to life the adventures of these fan-favorite characters who traverse between the human world and the Upside Down. The first figure in the new line of Stranger Things Collectibles is none other than Season Four's breakout villain, Vecna.
From the Demogorgon to the Mind Flayer, the iconic monsters of Stranger Things have always made an impression — Vecna's no exception. Named after the legendary undead wizard that ascended to godhood in Dungeons & Dragons lore, the creature from the sci-fi series embodies a similarly terrifying presence that quickly establishes itself as a threat by brutalizing several teen residents in the town of Hawkins. The final episode of Vol.1 — spoiler alert — revealed that Vecna is in fact Henry Creel, troubled son of Victor Creel, as well as the infamous One from the same experimental program as Eleven. Vol. 2 further fleshes out the villain's motivations and actions behind the scenes, from the original abduction of Will Byers to the supernatural assault on Starcourt Mall.
Like previous antagonists, Vecna's influence has had real-world cultural impact as well. His close encounter with Max Mayfield in Vol. 1 proved to be the standout scene of the season, one that propelled Kate Bush's 1985 track "Running Up That Hill (A Deal With God)" to the top of the charts 37 years after its release. The viral moment spawned countless social media videos and memes, such as the "What's your Vecna song?" discussion where fans share their favorite music that will save them from the monster's death grip.
The 8" vinyl toy collectible consists of a 5" detachable figure and a 3" base featuring the ominous Creel House grandfather clock as well as the hive mind of intertwined vines. Vecna takes his signature villainous pose with an outstretched arm, and if you look closely enough you'll even find a secret detail hidden on his wrist. "We're thrilled that our new partnership with Netflix's Stranger Things gives us the opportunity to create collectibles that allow fans to engage with the most memorable and meaningful moments in their favorite shows," explains Jackson Aw, Founder and CEO of Mighty Jaxx.
The Stranger Things x Mighty Jaxx: Vecna will be available for preorder on July 9 on the Mighty Jaxx website.
Click here to view full gallery at HYPEBEAST