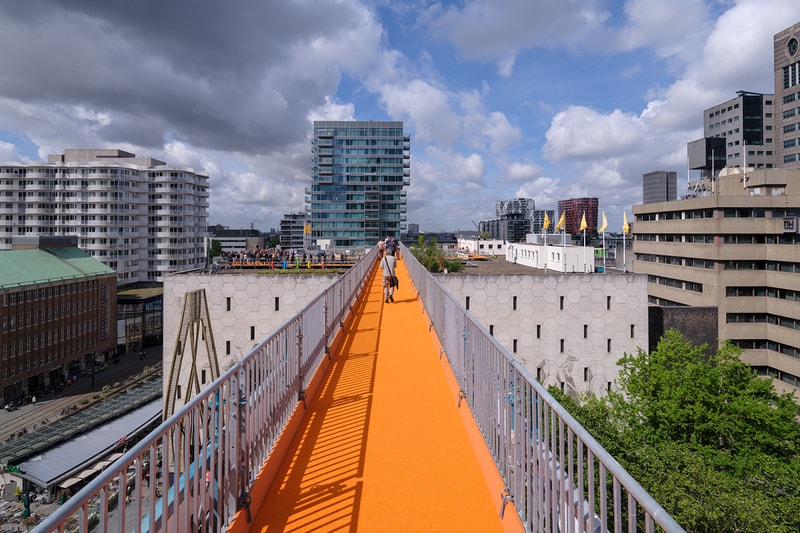 Dutch architecture firm MVRDV has designed a bright orange rooftop walk for Rotterdam, which spans 600 meters and offers views of the city from above.
The "Rotterdam Rooftop Walk" has been installed in time for the city's architecture festival and is open for one month. It allows visitors to see Rotterdam from a height of 30 meters and aims to give the public a new perspective on the place they call home, or the place they are visiting.
Its route begins at the sunken Koopgoot shopping street, where visitors alight via a staircase that has a series of stop-off points. The walkway then crosses the Coolsingel street and heads over to the rooftop of the Bijenkorf department store, which was built by architect Marcel Breuer in 1957 and has become one of the city's architectural icons. To descend the walkway, the route continues across to the roof of the Bijenkorf parking garage, and a staircase takes visitors back to the ground level.
Winy Maas, Founding Partner at MVRDV says that the idea to create the "sequel" structure came after the firm's 2016 project "Stairs to Kriterion", which saw a staircase measuring 29 metres tall and 57 metres long also installed in Rotterdam.
He added:
"During the Eurovision Song Contest, the idea was to make a high stage to honour the winner, but that was cancelled due to the pandemic. I am glad that [we] have managed to achieve this [structure], and I want to argue for a further sequel: we should not only occupy our roofs and make them greener but also connect them so that we can offer Rotterdammers a new rooftop park. For this, the orange carpet and the bridging of the Coolsingel are a nice initial test case."
The Rotterdam Rooftop Walk is open until June 24 and coincides with both the Rotterdam Architecture Month and the Rotterdam Rooftop Festival. Tickets can be purchased online.
In other architecture news, London's Royal College of Art has relocated to a new building designed by Herzog & de Meuron, which, after a lengthy £135 million (approximately $168,613,650 USD) construction, has been unveiled.
HYPEBEAST Design offers a platform for projects to be featured. For more information, please email design@hypebeast.com
Click here to view full gallery at HYPEBEAST