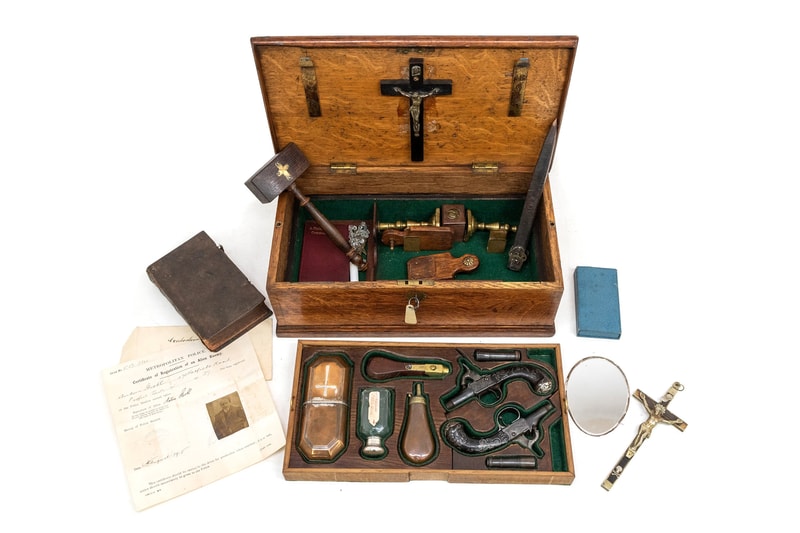 An interesting collectible has just caused quite a stir at Hansons Auctioneers. The relic in question is a mysterious antique vampire-slaying kit once owned by Lord Hailey (1872-1969), a British peer and former administrator of British India. Estimated to sell for around $2,300 - $3,500 USD, the kit entered a bidding competition where it was eventually sold to a U.K. collection for roughly $20,000 USD.
Charles Hanson, the owner of Hansons Auctioneers, said: "Interest in this item ahead of auction, both from potential buyers and media outlets all over the world, was intense. It attracted strong advance bids. Nevertheless, the result exceeded all expectations. Bids came in from across the globe including France, America, and Canada – and the news story about the find went viral. It originally belonged to Lord Hailey, a British peer and former administrator of British India. Whether through fear or fascination, it's interesting to know a member of the highest aristocratic social order, a man with a place in the House of Lords, acquired this item. It reminds us that the vampire myth affects people from all walks of life. I think the aristocratic connection made this object even more desirable and, perhaps, helped it on its way to a particularly strong result."
The lockable box contains items for warding off vampires like a bevy of crucifixes, a matching pair of pistols, a brass powder flask, holy water, a Gothic Bible, wooden mallet, stake, brass candlesticks, rosary beads, and Metropolitan police paperwork from the period. Read more about the vampire-slaying kit's provenance over at Hansons Auctioneers.
In other collectible news, 2,000-year-old Roman bust was purchased for $35 USD at a Goodwill in Texas.
Click here to view full gallery at HYPEBEAST