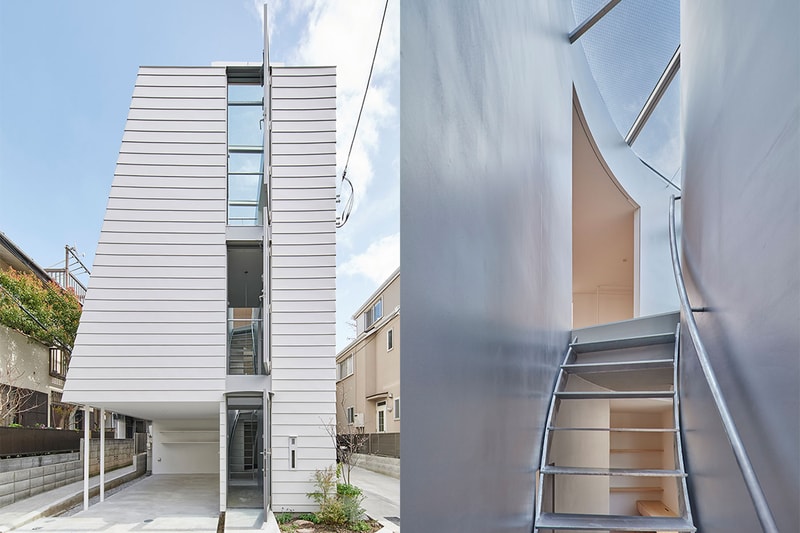 A mindful walk around the nearby neighbourhood inspired the design for the "Scooping Scenery" house by Tokyo practice NOT Architects Studio. Keen to tune out the noise of the cityscape, the practice's principal Lisa Ono instead focused on the naturally occurring elements in Oto City, Tokyo when it came to creating the new home.
The house is situated in a residential area close to the city's centre. Surrounded by other residential buildings, the footprint for the project was small – and Ono had to think creatively about how to maximise the allocated space. To ensure a connection to the urban landscape, its north side is connected to the road, while a small garden on the east side provides a scene of greenery.
Lisa Ono said:
"When I usually walk around my neighbourhood, I see a similar cityscape. However, when I squint, there are moments that touch my heart, such as the trees planted in the garden, the weeds growing on the roadside, sunlight filtering through trees along a street, and the sky seen from between the buildings.

"[This design] scoop ups the small sceneries scattered in such a city and spends time with them."
Inside, walls are painted silver in a bid to mirror some of the colours of neighbouring buildings, plants and the sky. Surfaces curve round to bring organic forms to the architecture, and make moving through the house feel like a discovery of new spaces rather than a series of formulated rooms.
Adding to this, each of the rooms has windows and openings of different shapes and heights – each of which create a different frame for both exterior and interior views. Communal areas are designed to be open in a bid to encourage fluid "transitions" from room to room, and a glass roof allows light to flood through the entire house.
"By scooping up these various movements, a new scenery creates in the entire valley space, [and] by incorporating the urban scenery, we aimed to create a space that creates a new scene that can only be seen in this place all year round on a small site," Ono added.
In other architecture news, in London – and on a slightly larger scale – the long-awaited Royal College of Art Campus by Herzog & de Meuron has finally been unveiled.
HYPEBEAST Design offers a platform for projects to be featured. For more information, please email design@hypebeast.com.
Click here to view full gallery at HYPEBEAST