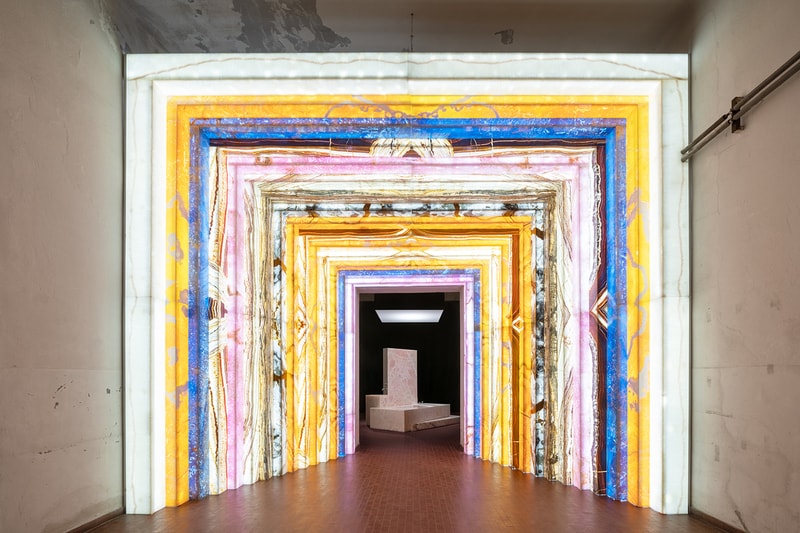 Rotterdam-based designer Sabine Marcelis has brought her candy-coloured works to Milan for Salone del Mobile, collaborating with architecture practice OMA to create an exhibition of monumental pieces crafted from marble.
Marcelis and fellow Rotterdammers OMA were commissioned by SolidNature – a company that sources, sells, and crafts natural stone – to create a range of designs for independent destination Alcova. The pieces take over five rooms – ranging from a monolithic bedframe to a bathroom sculpture.
Visitors enter the show via a huge multi-hued archway, formed from nine different types of onyx that are backlit to show the way into the exhibition. The first room features a monolithic bathroom structure, crafted by Marcelis from pale pink onyx. Rather than having separate bathroom items, the designer has brought them all together to create a free-standing sculpture. For Marcelis, the design explores the relationship between form and function:
"There is, for sure, a clear intent in everything I design. It's very much about getting to the core of something and stripping back any decorative elements. I always design things with function in mind, but maybe when you see the installation in person for the first time, it doesn't look like the most functional thing. It's a delicate balance of aesthetics, materiality, form language, and function".
The next room contains two main pieces: a bed and a cabinet, both designed by OMA. The cabinet, named 'Balance' is made from a green structure with an orange-toned interior. On one side, it has open shelves for displaying items, while the other has closed cabinet doors. The 'Inhabitable' bed has been constructed from two main elements, a fixed slab of green marble and a darker green onyx that rotates to reveal storage and plugs for chargers or lamps. Screens and lighting in the exhibition are plugged into devices each named 'The Technological Stone' – which see a block of natural stone with rough finishing, transformed into a power plug.
"The design explores the possibilities of natural stone, from the unfettered expressivity of a raw block of marble to the creative reuse of leftover off-cuts and stone dust," said OMA partner Ellen van Loon.
Monumental Wonders is on show until June 12 at Alcova – a design platform that activates forgotten locations of historical significance to transform them into temporary exhibition spaces, and for 2022 is taking place within derelict buildings surrounding a functioning military hospital.
Elsewhere in the city, The recently announced collaboration between Toogood and Carhartt WIP has gone on show, with giant puppets crafted by the London studio acting as models.
Alcova
Via Simone Saint Bon
120147, Milano
Click here to view full gallery at HYPEBEAST