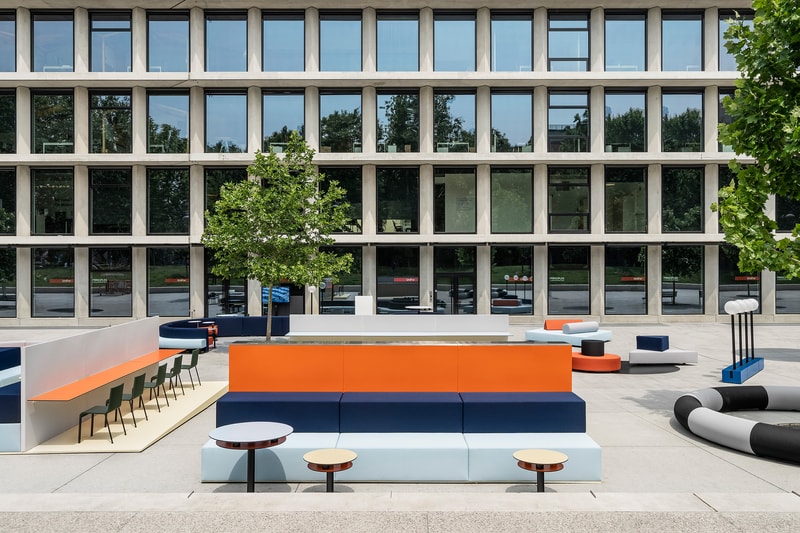 OMA and global furniture designer and manufacturer UniFor have been collaborating since 2018, and now four years later their ideations have come to fruition. PRINCIPLES is a new furniture collection made to mirror the contemporary workplace in all of its dynamic iterations.
The multi-faceted furniture range was unveiled for the first time for Milan Design Week 2022, showing off a multitude of pieces of different shapes and sizes. Each of the over 100 individual elements in the collection were created to be combined for an array of endless possibilities.
Whether one's home or office situation is more traditional or contemporary, PRINCIPLES' many elements can create an environment that caters to every need. The pieces are broken down into distinct "families," such as partition panels for creating a private workspace and ring-shaped sofas for a more collaborative set-up.
Although each component is different in its function, all of the pieces in the collection were formulated with ease of use and convenience in mind. PRINCIPLES' tables and desks all have double-layered surfaces for multi-use and each structure is wired so technology can be incorporated effortlessly.
Technology made a distinct impact on PRINCIPLES, as UniFor is known for bringing technical expertise to their designs. The furniture is upholstered in high-tech sportswear fabric for durability and soundproof materials were employed in certain "families," to maximize acoustics.
Both OMA and UniFor saw PRINCIPLES as a chance to explore pushing the boundaries of what a functional working or living space looks like in modernity. What began as experimentation to find the most practical, yet uniquely adaptable designs has resulted in furniture that completely reflects the individuals using it every day.
PRINCIPLES is on view at the UNiFor showroom during Milan Design Week from June 7-12.
PRINCIPLES designed by OMA
Milano Design Week
UniFor Showroom
Viale Pasubio 15
20154 Milan
In related design news, Transparent opened a minimal "Sound Room" in Stockholm.
Click here to view full gallery at HYPEBEAST