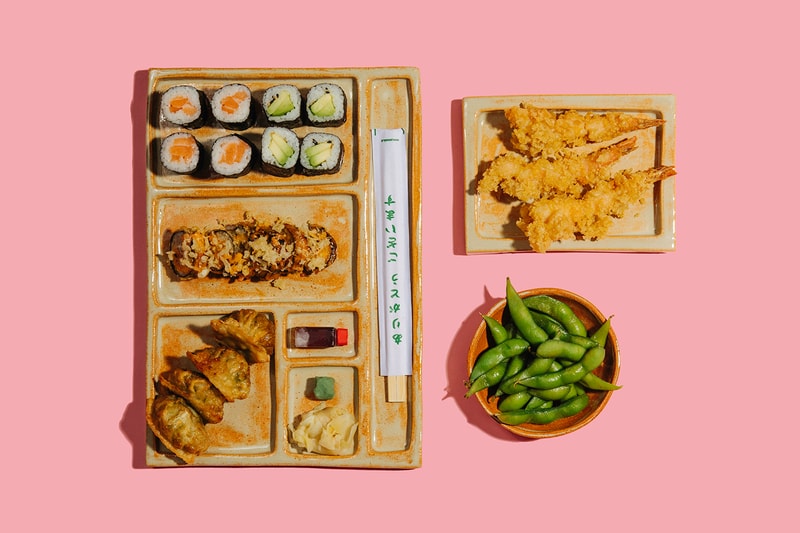 London-based label Ronning has unveiled its first-ever collection of pieces for the home, which is made up of a series of ceramic trays that are each individually handmade by artist Carmen Boyd. Named "Ceramic Everyday Objects" the collection is based on functionality and takes its visual cues from an ancient style of Japanese pottery.
To create the pieces, Ronning called on the expertise of Boyd – a London-based ceramist, who crafts functional home objects and restaurant wares from her Deptford studio. For each, she begins by carving out a piece of clay to create the organic shapes and individual details. After they are left to dry out on wooden boards (which prevents cracking during the bisque firing process), they are placed into the kiln at a temperature of 940°C. A glaze is then applied across the object. When finished, the final look of the glaze is inspired by Shino ware, which emerged from Japan in the 16th century and typically sees thick strokes applied and scorch marks made from the firing process.
Describing the final product as "multifunctional and timeless" Ronning envisions the pieces being used either together or individually. A large contents tray is split into multiple partitions, a smaller tray can be used alone to store jewellery, and finally, a dish has been created for burning incense. "Each is crafted and finished by hand making every object truly unique," the brand says.
This collection makes Ronning's first foray into objects for the home, and a second collection is expected to drop later in 2022. Prices start from £25 (approximately $29.58 USD).
Elsewhere in design, Helinox and RVCA have teamed up for an artist-led collaboration of outdoor furniture that features the work of Ben Horton and Kelsey Brookes.
Click here to view full gallery at HYPEBEAST