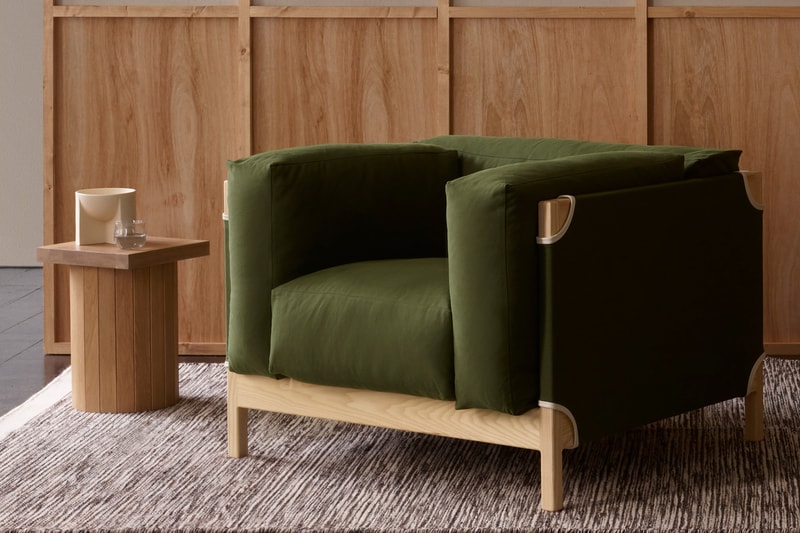 London furniture brand SCP has unveiled its latest collection, which brings together a range of squishy sofas, camping-inspired armchairs, recliners, and handcrafted wooden stools. Known for working with a wide range of designers, the brand has pulled together an impressive roster for the latest drop – tasking Matthew Hilton, Philippe Malouin, Ilse Crawford, Oscar Peña, and Wilkinson & Rivera with creating new pieces.
A standout piece from the collection is Malouin's "Camp" chair, which, as the name suggests, takes its design cues from outdoor equipment. Malouin, who has been collaborating with SCP since 2017, has created a solid wooden frame, with cushions upholstered in hard-wearing cotton and leather trimming. The designer has a second piece in the new collection, too, which sees his existing "Group" seating transformed into a sectional system to accommodate different settings and home sizes.
For Hilton's "Ewelina" armchair, comfort was key. Putting a contemporary spin on a function normally reserved for La-Z-Boy chairs, Hilton has created a snug recliner that prioritises form and function in equal measure. Elsewhere, the Barley twists popularised in 17th-century furniture influenced the form of Wilkinson & Riviera's "Mesa de Baile" and "Silla de Baile" designs. All pieces are handcrafted by the artists in their East London Studio and are made from locally sourced materials.
The new collection is completed with a set of side tables that can double up as stools, by Ilse Crawford and Oscar Peña. Together, the pair have come up with a duo of small perches made in two different ways. One has a tripod leg, while the other stands on a single-footed base – but both utilise Japanese joinery techniques and take on a handmade appearance.
SCP debuted the collection during this year's Milan Design Week, in an exhibition titled "Ways of Sitting". The exhibition marked the brand's return to the design festival, after its postponement in the midst of the pandemic, and a scaled-back edition in the later half of 2021.
In other design news, Copenhagen-based label Tekla has unveiled its latest partnership with legendary architect John Pawson, who has crafted a linen collection and a bed that features a moveable headboard for night time reading.
Click here to view full gallery at HYPEBEAST