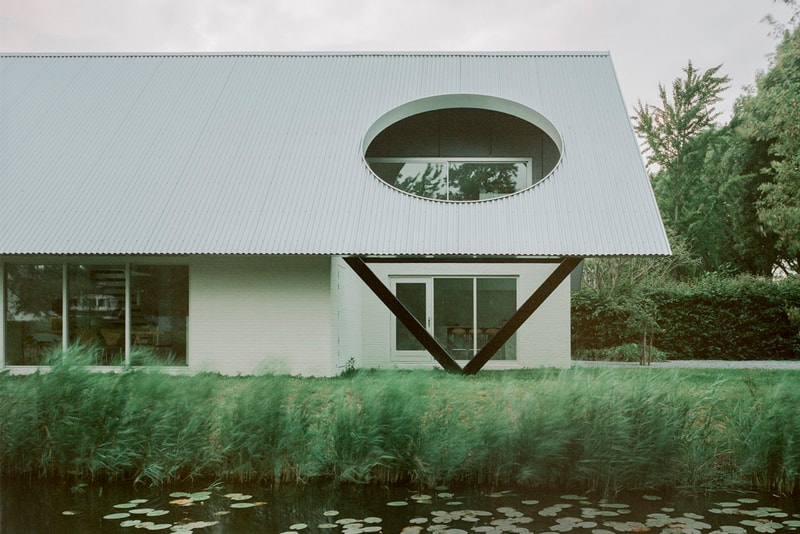 Dutch architecture practice Space Encounters has taken a property built in the 1980s and reworked it to become suitable for a growing family. Located in Broek op Langedijk, The Netherlands, "AB House" features a distinctive pitched roof, with a circular cut-out on one side. Surrounded by a rural landscape, the home is set within an area that is divided into hundreds of small islands – each of these pieces of land occupied by one family home.
The architects saw the project as a chance to make the house more suitable for modern-day living while updating its sustainable credentials. "AB House is a modest, yet distinct example of how living in the countryside can be made more sustainable and adapted to changing demands for contemporary living," they say.
The original layout of the ground floor was retained, and in order to create more living space – the team built upwards, as far as the urban regulations would allow. In doing so, a new roof and the entire first floor have been. created.
Both of the new additions to the property make for a striking design feature from the exterior. The first floor, for example, features a steel mesh wrap that contrasts with the white-painted brickwork on the ground floor. The steeply pitched roof has been clad with corrugated aluminum, with a typically practical household feature – a rainwater gutter – being transformed into a design detail. Across the rest of the architecture, "prismatic forms" have been created, with circle, triangle, and square-shaped apertures allowing natural light to pass through.
"This transforms the one-dimensional house from the 1980s into a more layered and diverse piece of architecture that tries to fully absorb the qualities of the surrounding green and water-rich environment," the architects say. "The result is a house in which tradition and modernity blend perfectly."
Take a look around the property above, and for more architecture – step inside the new Hoxton Hotel in London's Shepherds Bush.
Click here to view full gallery at Hypebeast