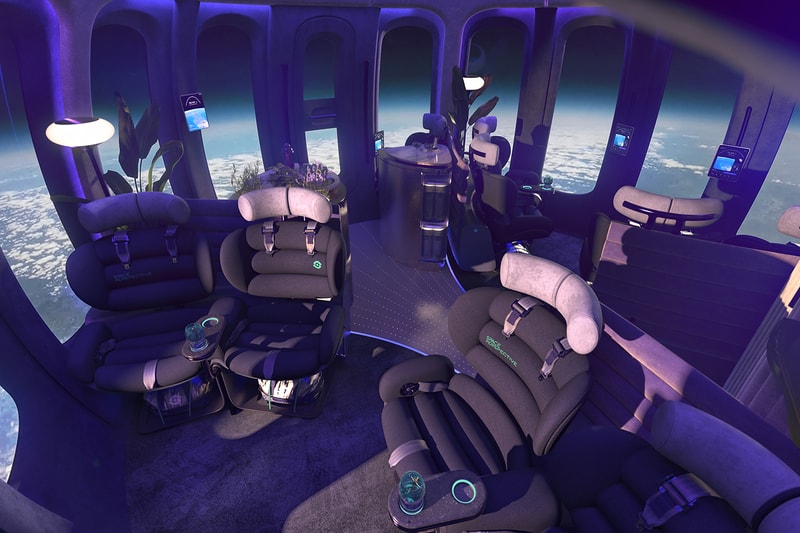 Luxury space travel company Space Perspective has revealed the final design for its Neptune capsule, which offers a carbon-neutral alternative to visiting the edge of space.
The capsule's spherical shape allows for 360-degree panoramic views through windows – which the company claims to be the largest ever to be taken to the edge of space. Crucially, these windows feature a reflective coating, similar to that of an astronaut's helmet, which will help to keep the capsule cool in temperature by limiting its solar gain.
Inside, the interior feels distinctly more homely than that of a typical spacecraft. Seatbelted lounge chairs provide a safe place to sit during take-off and landing, while sofas provide a place to relax and take in the scenery. The capsule itself is relatively tall to allow for better headroom, enabling travelers to move around. Luxurious materials are used across the interior, such as fluted glass and marble. Snacks and drinks will be available from an onboard bar, across the course of the six-hour journey.
The patent-pending design was presented at the company's campus, with its forms and details having been overseen by Dan Window, Experience Design Lead, and Isabella Trani, Experience Designer. Of their design, the pair said:
"Space travel presents a new realm of exciting challenges and creative thinking. As design specialists, we have integrated the travel experience and aesthetic – from headroom and groups of Explorers being able to move around comfortably within Spaceship Neptune from chair to restroom to bar – to, of course, maximizing the once-in-a-lifetime views.

The pioneering 360-degree windows will be accompanied by satellite imagery and 360-degree cameras to zoom in and out on the incredible vista. We now also have an exterior aesthetic that is every bit as powerful as the interior revealed in April - the engineering team has delivered an unsurpassable outcome in relation to performance and safety."
Manufacturing of Spaceship Neptune has already begun with 900 tickets to travel in it sold to date. Tickets are priced $125,000 USD per person and can be reserved for $1,000 USD on the Space Perspective website.
Elsewhere in design news, Daniel Arsham, Misha Kahn, and Andrés Reisinger have designed metaverse real estate for 'The Row'.
Click here to view full gallery at HYPEBEAST