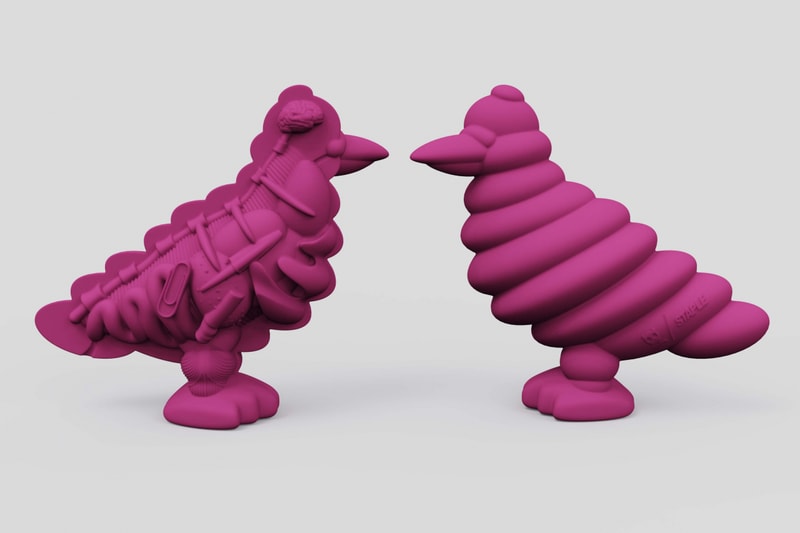 STAPLE has once again partnered up with Zee.Dog, the pet lifestyle brand, for a four-piece collection. Zee.dog was founded in hopes to bring stylish, personalized necessity items to pet owners, creating pet products with a fundamental understanding of what people want.
The initial collaboration between the two was in 2019. Since then, the two brands have released iconic items that are loved by both human and dog. STAPLE founder, Jeff Staple, commented on their history of working together, ''The development of our products is based on the combination of technology, innovation and creativity. The result is a range of amazing products that represent the lifestyle of both brands".
The latest collection features the Tuff Bowl, Hands-Free Leash, Zee.Bed and the Fat Pigeon Toy. The Tuff bowl comes in a stainless steel container design with a rubber hot pink bottom to avoid sliding. The eight foot Hands-Free leash can be worn around your waist or across your body by simply moving the E.zee adjustment slider and is designed to provide better control than hand held leashes. The feature also delivers a more enjoyable walking experience for you and your dog. It comes in gray and has a pink mini Fat Pigeon toy attached near the metal clasp to finish the look. The Zee.bed is made of extra comfortable unibody viscoelastic foam and ultra-soft microfiber cover to make anti-scratch, hypo-allergic, soft on fur and perfect for all types of dogs. Near the bottom of the bed, a small nametag can be found that combines the Zee.dog and STAPLE logo. Lastly, the exclusive Fat Pigeon Toy comes back in a new solid pink design, made entirely out of super tough natural rubber.
The Tuff Bowl is priced at $35 USD, Hands-Free Leash at $40 USD, Zee.Bed at $160 USD and the Fat Pigeon Toy at $30 USD.
The STAPLE x Zee.Dog collection is limited and will be available on August 16 at Zee.Dog and STAPLE's online store as well as selection stores located in Germany, Argentina, Canada, Greece, Italy and more.
In other news, check out everything dropping at Palace this week.
Click here to view full gallery at HYPEBEAST