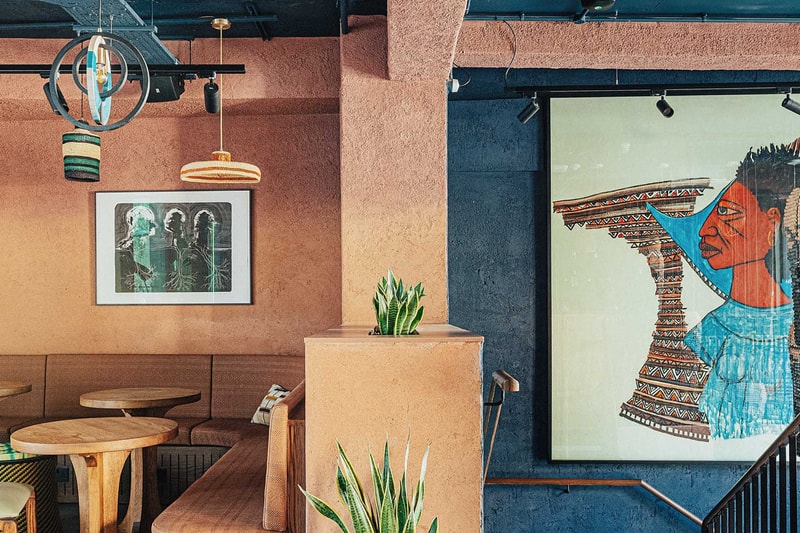 London-based architecture studio Freehaus has taken a 1960s office building in Southwark and transformed it into a new space for The Africa Centre, creating a headquarters that will house a pan-African restaurant, bar lounge, multifunctional gallery, event space, learning facility and a business incubator.
The completion of the project falls 60 years after The Africa Centre was first established in the city's Covent Garden area, when it aimed to create a 'home from home' for African people in London. After a process that saw them whittled down from a pool of 60 architects, Freehaus was chosen to lead the project in 2019, and has since meticulously worked its way through a thoughtful retrofit.
Jonathan Hagos, co-director of Freehaus said:
"The key to the brief was for The Africa Centre's new headquarters to be unmistakably African. Given the breadth of diversity on the continent and among the diaspora, we were keen to avoid stereotypes and well-trodden aesthetic tropes. At the same time, we wanted to avoid continent-sweeping generalisations. 'Africa isn't a country' is a familiar response, often born of frustration at the dismissal of understanding of the breadth in peoples, cultures and traditions that span the African continent.

We wanted to turn this misnomer into a strength and envisage what an embassy for a continent might look like in the 21st century; a space that demonstrates what connects us and binds us to one another, while celebrating the dynamism of the continent."
Through their initial research, the Freehaus team identified traditions that are shared across the African continent and global diaspora. The work of architects David Adjaye and Francis Kére provided strong departure points for the design, along with Chris Spring's book African Art Close-up, and African Architecture Evolution and Transformation by Nnamdi Elleh.
This led to the practice working alongside collaborators interior designer Tola Ojuolape and brand designer, Mam'gobozi Design Factory to create eight themes that would provide structure to the architectural and design approach. Interiors see clay plaster walls combined with brightly coloured furniture and curated artworks, while the exterior has been updated with black paint, making the building stand out from the neighbouring architecture.
Having opened to the public recently, the centre will programme events that celebrate the diversity of Africa and its diaspora through art, culture, business and entrepreneurship. Its gallery space is currently playing host to the first solo show of Tanzanian visual artist Sungi Mlengeya in a show exploring Blackness and womanhood. See further details about the programme via the organisation's website.
In other architectural news, the Royal Institute of British Architects (RIBA) has revealed the winners of its National Awards programme, naming 29 buildings the best in new UK architecture.
The Africa Centre
66 Great Suffolk Street
London
SE1 0BL
Click here to view full gallery at HYPEBEAST