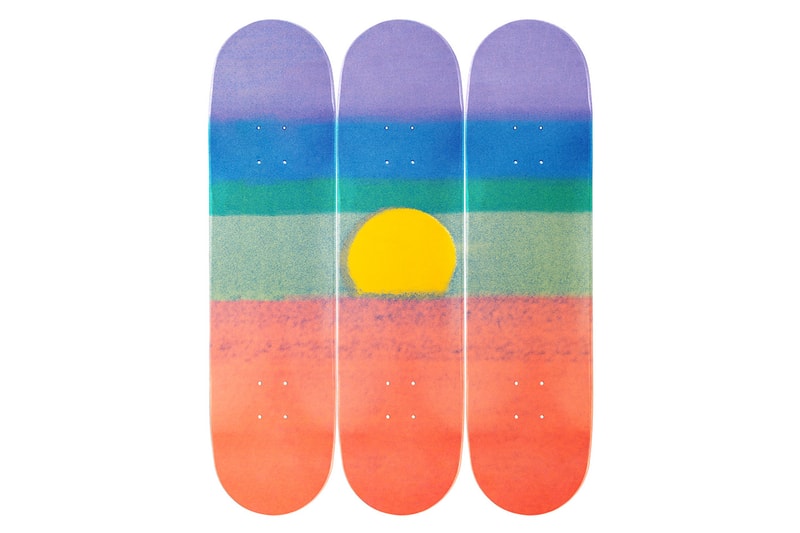 THE SKATEROOM, a social entrepreneurship project combining art and skateboarding, has brought its one-of-a-kind skateboards to HBX, HYPEBEAST's new flagship store in New York City's Chinatown. Housed on the second floor of the retail space, which opened its doors on Friday, June 17, THE SKATEROOM's decks will be on display and available for purchase in a pop-up installation until mid-July.
The curated collection at HBX New York features decks printed with artwork by legendary pop artists, such as Andy Warhol, Jean-Michel Basquiat, Keith Haring and Louise Bourgeois. One of Warhol's paintings, entitled SUNSET (Orange), is displayed as a triptych across three different decks, designed to be mounted side-by-side. Basquiat's 1984 painting Pez Dispenser, meanwhile, depicts a dinosaur with a crown on the back of a singular bright white deck.
Other decks in the lineup showcase work by Walead Beshty, Paul McCarthy and the influential skateboarder Mark Gonzales. Exploring the relationship between images and the outside world in which they are displayed, Beshty's The Copper Surrogate series consists of decks made entirely out of copper.
Founded by Charles-Antoine Bodson, THE SKATEROOM utilizes an engaged business model to benefit its youth outreach efforts. At least 10% of revenue from each product goes towards building skateparks and the development of educational facilities and programs. Each skateboard edition is assembled and packaged in Belgium and comes with wall mounts for its display.
Visitors can check out THE SKATEROOM's collection of decks at the newly-opened HBX retail space.
HBX New York
41 Division St.
New York, NY 10002
Click here to view full gallery at HYPEBEAST