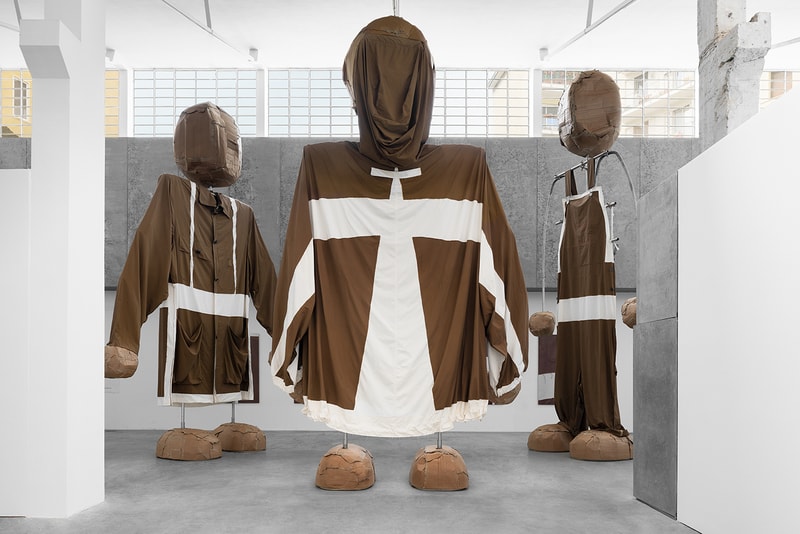 The recently announced collaboration between Toogood and Carhartt WIP has gone on show in Milan, with giant puppets crafted by the London studio acting as models. Each of the three puppets wears oversized versions of the garments from the collection and has been made from an assemblage of materials.
The puppets are located inside the city's Spazio Maiocchi, which has ceilings lofty enough to accommodate their height, and are part of an installation exploring the collaboration. Throughout the show, visitors are taken on an exploration of the studio and brand's collaboration – exploring the developments that took place, as well as explanations behind the design ideologies and ethics of each.
Elsewhere in the space, Toogood is presenting new furniture pieces, previewed for the first time at Salone del Mobile. The new collection, titled "Cobble" has seen the studio use ceramic to create furniture that they describe as "no-nonsense objects". Typical of the studio, inspiration came from every day – namely, pebbles found and collected from the floor. Each of the forms were first hand-sculpted in plaster, before being cast in a factory specialised in laboratory grade ceramics. Towards the end of the process, the pieces are finished in a gloss glaze in one of four colours: bottle green, chestnut brown, cream and pebble grey.
Upon the walls are a series of photographic prints on aluminium, that Toogood has named "Hacks". Each document a process that involved the studio cutting open and patching the original pieces in contrast coloured fabric.
"This collaboration has come from a very natural place for both brands," says Erica Toogood of the London-based design studio. "Carhartt WIP's history of modifying historic workwear sits effortlessly with Toogood's nod to trades and workwear, reimagined and sculpted with artistic freedom."
The Re-Cut installation will be on show until the end of Milan Design Week, which wraps up on June 12. In case you missed it, check out our pick of the must-see shows taking place across the city.
Spazio Maiocchi
Via Achille Maiocchi, 7
20129 Milano
Click here to view full gallery at HYPEBEAST