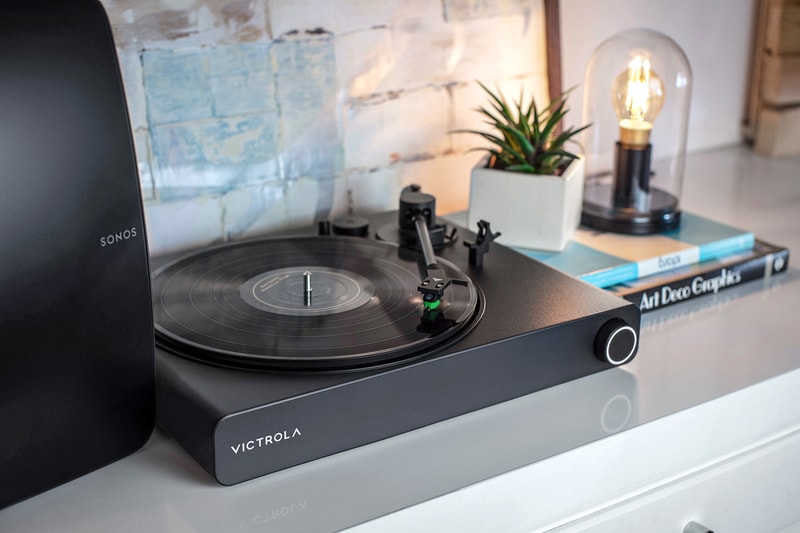 Victrola's history with records goes back almost 100 years — in 1925, when records were still made of shellac (the first vinyl record was released in 1948), the company publicly demonstrated the Victor Orthophonic Victrola, the first-ever consumer phonograph that was made to play records. Fast-forward almost a century and the company is still pushing the medium's evolution, this time with the new Stream Onyx turntable. Designed to seamlessly integrate with a Sonos speaker system, the Stream Onyx brings past and present together in an artful, high-quality fashion.
A follow-up to 2022's Stream Carbon, the Stream Onyx (which boasts many of the same features and retails for $300 USD less) has a built-in Wi-Fi connection and is able to instantly see and connect to any Sonos speakers that are on the same network. It also fully integrates with the Sonos app, so users can select autoplay or real-time playback zones.
Of course, a large part of vinyl is the tactile, analog experience, and that's not forgotten here. If the juxtaposition between physical and digital isn't your thing, RCA connectors are on the back so the Stream Onyx can be connected with a wired setup, and a volume knob on the front lets you adjust the volume in a more traditional fashion. If you want to do both, the Stream Onyx can also play through a wired and a wireless connection simultaneously. Other features include an aluminum tonearm, a dust cover, a two-speed belt drive so you can play 33 1/3 or 45 RPM records and an Audio Technica AT-VM95E cartridge.
The Victrola Stream Onyx turntable is available now via the Victrola webstore. It's normally priced at $599 USD, but is currently on sale for $549 USD.
Elsewhere in the world of design, Herman Miller has reintroduced eight of Alexander Girard's classic "Environmental Enrichment Panels" as posters.
Click here to view full gallery at Hypebeast