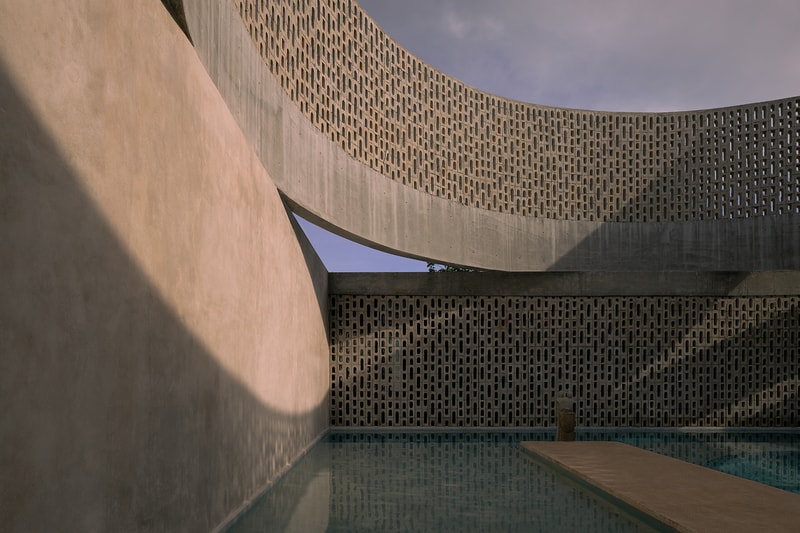 Towards the north of the city of Mérida, in the Mexican state of Yucatán, Arkham Projects has worked with a team of artisans to create a family home, which has spiritual meaning woven throughout its entire concept.
The home is based around a central cylinder, which rises up above the roof of the house, and features lattice tiles towards its top. The architects describe this area as being the building's "heart", and have placed a pool and yard to ensure it remains a social area. It links different sections of the house, too, allowing the residents to pass through from room to room via an outdoor space.
Of the home, the architects say:
"Wóolis was named by the workers, or rather artisans, who gave life to the built space. Its meaning in Mayan is ball, round, circle; they called the house this way referring to the central cylinder, the heart of the project.

[It is] a place that invites us to observe and remember our origins, a contemporary observatory that provokes us to discover the passage of time that can be seen in the lines that the sun and the upper lattice of the cylinder paint on the walls at different times of the day, traces that change their location during the year due to the varying inclination of the sun."
Materials are natural, and overall, its aesthetic is intended to remain relatively understated. "It is a project that does not pretend to be unique due to its luxurious materials and coatings, on the contrary, it finds that luxury in the rigid sincerity of its elements," the architects say.
The central pool isn't the only outdoor space at Wóolis – the architects have added a further two patios to the home – the first being public and visible from the front of the house, while around the back of the house, there is a private area.
Have a look around the house above, and check out this new building by Nendo, which is located in a Japanese forest and sees a series of corridors form a guesthouse and archive for art and furniture.
Click here to view full gallery at HYPEBEAST