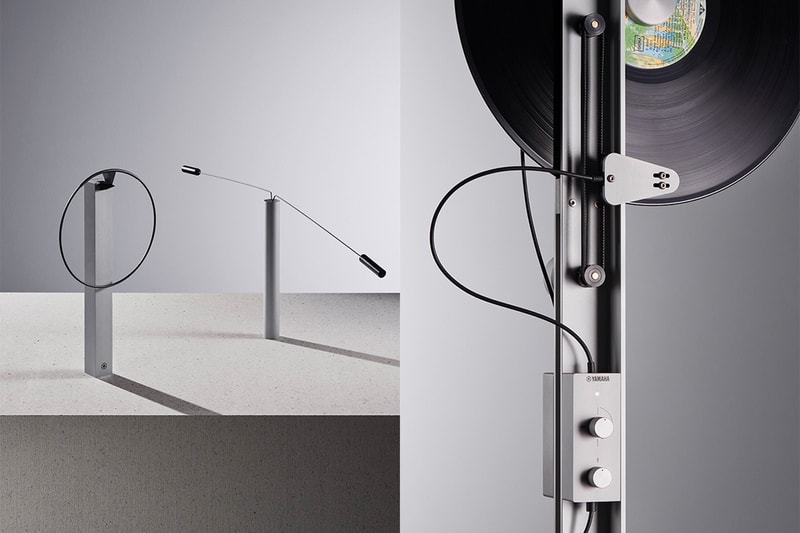 Students from the Swiss design school ÉCAL have worked alongside Yamaha to create a series of experimental music players that better cater to today's requirements. Each of the six designs is the result of rigorous research into the way we interact with music today, and offers an enhanced experience through their form and technology.
Working alongside the design laboratory at Yamaha, each of the students – Charlotta Åman, Jisan Chung, Silvio Rebholz, Till Ronacher, Jonas Villiger, and Ka Yin Cheung – have realised their concepts in a prototype phase. On the occasion of Milan Design Week, all are being exhibited inside an exhibition that has been realised by Swiss designer Anthony Guex and features a backdrop of thick, yellow velvet curtains.
Given the lack of live music during the pandemic and subsequent lockdowns, Till Ronacher's 'Stagespeaker' allows users to create live concerts at home by using a combination of sound and light to mimic a real concert environment on a tiny scale. Jisan Chung's wooden and fabric 'Sound Frame' is triggered to play different tracks depending on the objects placed within it, while Jonas Villiger's 'Vertical Player' elevates the turntable to a standing position in a bid to showcase the beauty of vinyl records.
The experience of ASMR influenced a set of instruments designed by Ka Yin Cheung, which play relaxing sounds while moving in slow, soft motions. Charlotta Åman has used her "Bandmait" design as an aid for those learning a musical instrument, and Silvio Rebholz created a retro-looking speaker named "Spazio" that connects all the sound outputs in the home into a single device.
All of the prototypes are currently on show until June 12 in Milan, as part of the city's design festival. Nearby, Louis Vuitton is celebrating ten years of its Objets Nomades collection at Garage Traversi. Check out our list of other must-see exhibitions and installations here.
Spazio Orso 16
Via dell'Orso, 16
20121 Milan
Click here to view full gallery at HYPEBEAST