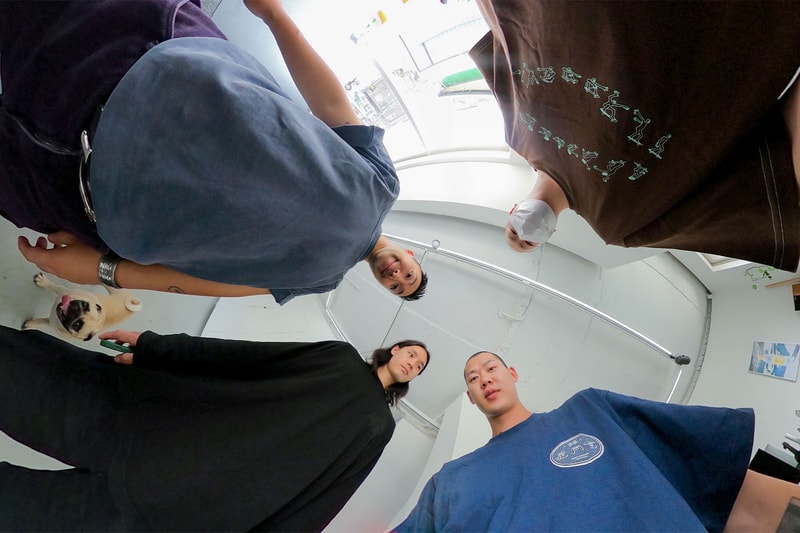 At the heels of its collaboration with OkDongsik, 다다DADA多多 released its first entry into the world of collectible Medicom Toy BE@RBRICKs. Produced in collaboration with Kinki Robot and NUBIAN, the figure takes shape as a BE@RBRICK that's given a makeover to look like it is constructed from watermarked jade stone.
Available in the 400% and 100% sizes, the imitation jade surface was treated with a watermark as a reference to copyright infringement prevention in a world that circulates millions of images every second.
Catching up with the playful South Korean collective -- comprised of Oh Hyuk, Jongkeun, Eunuk, Yoonhyun, Dasom, and Dawn -- HBX joined the six friends as an update on how things have changed for the group with their more recent increase in offerings and collaborative work. In the latest Journal entry, the group touches on things like divided workflow, the origins of the DADA name, and the rewards and challenges in working with such close friends.
An excerpt from the interview can be found below. Read the interview in its entirety over at HBX Journal.
WHAT IS THE INSPIRATION BEHIND THE HANJA "多多" AND WHAT DOES IT MEAN?
First of all, each part is the first character of Dasom and Dawn's name. More broadly, it can be interpreted in many different ways depending on the cultural context. For instance, Dadaism was a big movement in art history; "da-da" can mean "the more the better" in the Chinese-speaking world. It also means "yes" in Russian. Oddly, we vibe with all of these meanings.

WHAT DOES THE BTS OF DADA LOOK LIKE IN TERMS OF IDEATION, CREATION, POST-PRODUCTION, TO FINISHED PRODUCT?
From the start of the project, we just randomly throw ideas out there. Usually, when we hang out with DADA members, we talk about what's standing out in quality or uniqueness and draw inspiration from them. And then we work on the real products and digital campaigns/visuals using methodologies atypical for the traditional fashion and marketing industries.

Eunuk, Jongkeun, Hyuk, and Yoonhyun build up the main idea, Eunuk goes to visual directing, Jongkuen is in charge of creative direction and production, Hyuk takes on music, Dawn takes video content, Dasom does photography, Yoonhyun takes over styling, direction, and communication. Now DADA has a regular SS/FW season with events and collaborations in between. We are planning to do more collaborations reflecting each of our members' personal tastes.
In other fashion news, Nike and Rit Dye team up for a DIY tie-dye sweatshirt kit.
Click here to view full gallery at HYPEBEAST