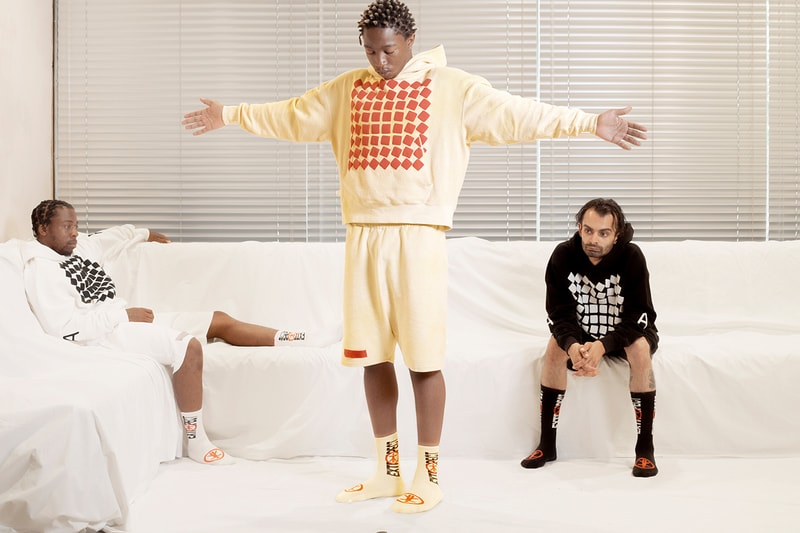 AELIZA's mission statement is what leads the brand's ethos: "a dialogic study of the autonomous individual." In plain terminology, being the mirror for wearers to embrace and feel secure in their individuality. With previous collections exploring introspection, the brand's latest "Extrospect" range plans to do the complete opposite.
Having unveiled the collection, and given exclusive access to visitors of its inaugural pop-up exhibition in London last weekend, the range is comprised of a selection of outerwear, shorts, T-shirts and accessories in line with its futuristic approach. Whether it's the workwear set featuring internal labels on the outside or the inverted hoodies making the French Terry lining visible and seams untouched, the "Extrospect" messaging is more than just a slogan but is seen across the garment's designs.
As well as introducing a psychedelic puff print to this season's T-shirt offering, AELIZA also presents a new colorway into its palette: "Oxidised Yellow," a representation of the time it takes for plastics to turn that color. Aligning with the brand's message of "pushing the idea that we all need time to think to make sense of things around us" -- the collection arrives with a Questions to Self journal which asks a series of personal, but open-ended questions to allow readers an unlimited opportunity to delve into their mind and put their thoughts onto paper.
For AELIZA's founder Jack Harper, his experience up until this point speaks to his desire to communicate his message. Beginning his journey as design and art director during the formative years of Samuel Ross' A-COLD-WALL*, he was soon independently leading stand-out projects with the likes of the late-Virgil Abloh, Design Museum, plus many more. Harper's close proximity to fashion and music, in particular its links to inherently British themes, focuses on the individual and their talents rather than their respective industries. These tenures have opened his eyes to the potential that creativity has to uphold dialogue which continues to inform AELIZA's direction. Alongside multi-hyphenate creative and DJ Nosa Aiworo, the brand aims to build an all-encompassing experience tapping into all facets of culture.
Check out the lookbook in the gallery above. The latest AELIZA "Extrospect" collection is set to launch on September 2 and will be available via the brand's website.
In other fashion news, take a look at Maharishi's latest "Battle Royale" FW22 collection.
Click here to view full gallery at HYPEBEAST