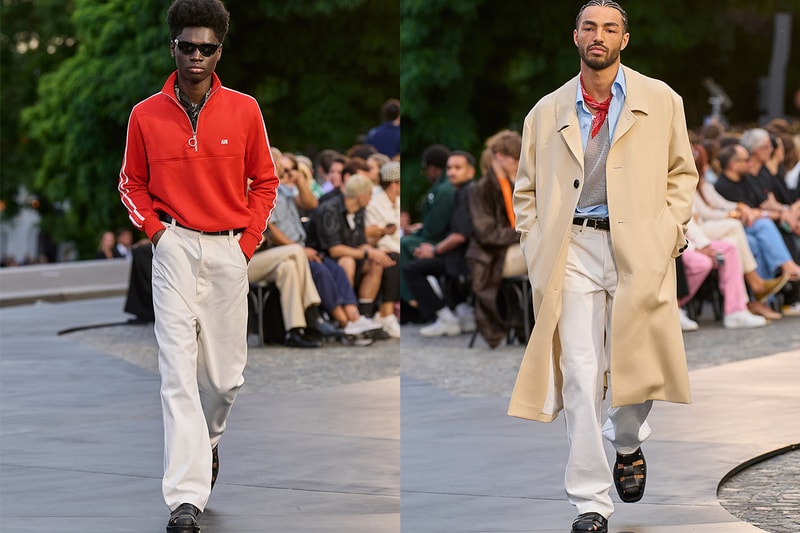 Closing day three of Paris Fashion Week, homegrown label AMI dedicated its show and collection to its home city. The location -- on the steps of Sacré Cœur overlooking Paris -- reflected the theme, while the collection itself drew on Paris for inspiration.
Titled "Cœur Sacré," translated as "Heart Sacred" and an inversion of the basillica's name, the collection was inspired by the people of Paris and particularly the area of Montmatre. Nodding to this, a '60s influence was referenced through loose fitting blazers, argyle knitwear and leather jackets. Together, the pieces celebrated AMI's view of Paris and also certain Parisian stereotypes.
"It is my district," AMI founder and creative director Alexandre Mattiuissi told HYPEBEAST after the show. "I've been around the hill for 20 years, it's somewhere I go most of the time. It's a venue that everybody loves, but Parisian's don't go so often because it's a tourist place. I wanted to bring people back there because it's magic. I love the idea of showing Paris in a romantic and cinematic way."
Mattiussi continued the Parisian references throughout the collection. All of the models represented a different character from Montmartre, continuing AMI's mission to create clothing for the people of Paris.
"I always try to define the ideal of what is a Parisian wardrobe, a French quintessence in terms of style," Mattiussi continued. "It was about trying to put everyone in the role of Parisians living in the district. You had the cool girls, you had American tourists wearing the "Cœur Sacré" T-shirts, you had the chic rich lady who is maybe an art dealer. You had all of these characters because AMI is really about everyone. I tried to make this little movie super realistic, the streets of Montmartre are particularly beautiful for that."
The show's influence went far beyond the collection, with the set design and casting also referencing the city. The show was opened by Audrey Tautou, arguably best known for playing the title character in the Montmatre-set film Amelie, before a string of big name models including Kristen McMenamy, Cara Delevingne, Paloma and Sage Elsesser, Precious Lee and Mona Tougaard walked alongside street-cast and up and coming models. The casting, the location and the collection all added up to create a tribute from Mattiussi to the city in which he lives.
"I'm in love with Paris, this is my favorite city in the world, a place I have called home for the last 24 years," he said. "I feel so grateful every morning. Even when you don't feel very good or you feel a bit moody, Paris offers you beauty all the time which makes you feel very good. This is a love letter to Paris."
For more from Paris Fashion Week, go backstage at Bianca Saunders' show.
Click here to view full gallery at HYPEBEAST