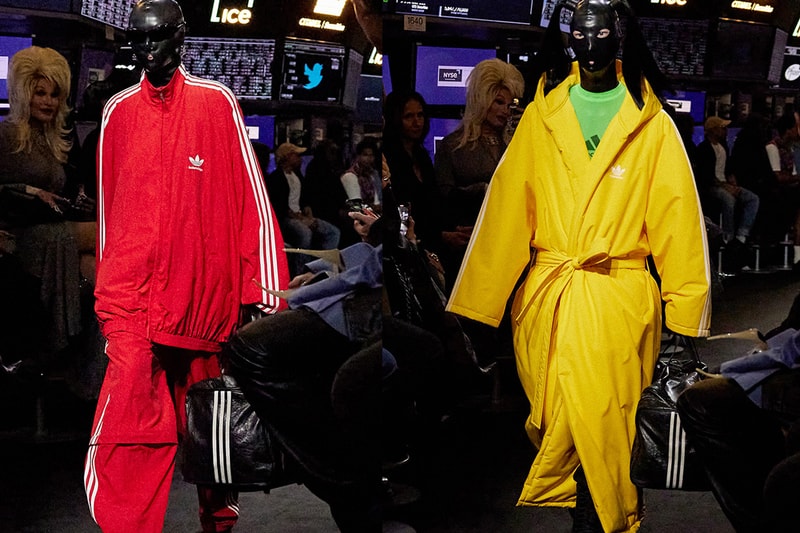 Demna Gvasalia has continued to maintain consistency, allure, and profitability since taking the reins at Balenciaga. And with a surprise visit to New York City's Wall Street – to present a large-scale fashion show – the brand is yet again placed in the spotlight for its Spring 2023 collection and collaboration with adidas.
Balenciaga's latest runway venture took place at the New York Stock Exchange and involved a plethora of wearable mixed media. From skin-tight full-body fetish suits to oversized washed denim, the new Garde-Robe line, and a much-hyped Balenciaga x adidas collab, each one of Gvasalia's models appeared anonymous as they strutted across the trading room floor. The myriad of 63 runway looks contained luxe wool and silk, elevated cuts, sharp tailoring (with suit separates), footwear and outerwear.
In today's social climate – as the pandemic still lingers – the face-covered suits evoked an extreme ideal of 'masking up' when paired with a modern wardrobe, versus evoking a sense of eroticism because of the vibrant latex.
The confirmed adidas collab highlighted billowing tracksuits, oversized bomber jackets, soccer jerseys, artisanal denim and bags – including backpacks, duffle bags and top handle bags. A joint logo appears in the form of adidas's iconic "sport badge" and "trefoil emblem" meeting a lowercase "balenciaga" placement, either at the center of T-shirt items or on the chest panels of jackets and coats.
On scene at the show, notable VIP's and celebrity guests including Chloë Sevigny and longtime brand supporter, Kanye West, were in attendance. And backstage after the finale, Gvasalia spoke to HYPEBEAST about his inspiration and why he chose NY to showcase the new collection, stating:
"This is actually the first time we wanted to go outside of Paris because we're considered a global brand now, and New York is the first place I ever came to, in America. We worked on the Garde-Robe line for a while and they're classic clothes – high-quality, very well-made and with a high price tag on it."
"And because this is something that is a bit more timeless, for me, this is New York. This is how I see people here with a culture that can perfectly balance upscale tailoring being worn with sneakers. America is a very important market for us, and we've been supported from day one in the US," he adds.
The Balenciaga x adidas collaboration is now available and exclusively being sold – in select quantity pieces – on Balenciaga's website, in addition to in-store at the brand's NYC Madison Avenue store.
Elsewhere in fashion, Dior and ERL's new capsule collection showcased "California Couture" for Spring 2023.
Click here to view full gallery at HYPEBEAST