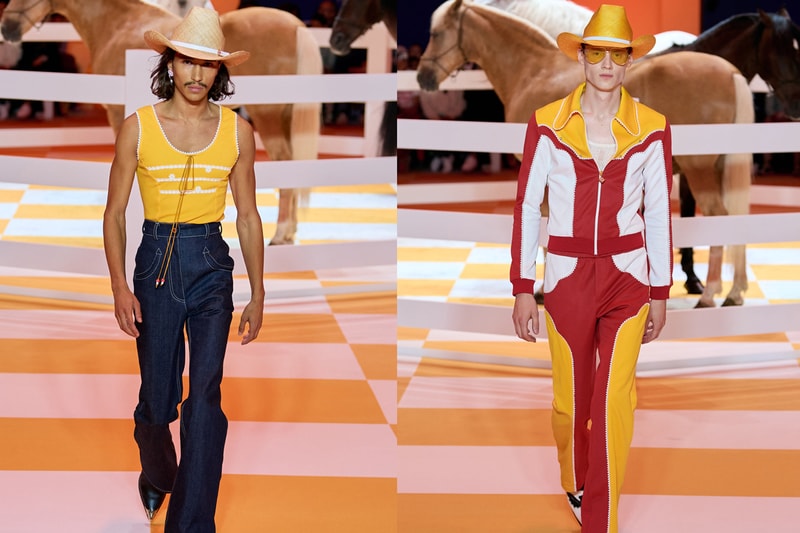 With only a few, short years in as a burgeoning design label, Charaf Tajer's Casablanca has shown no signs of slowing down. For Spring/Summer 2023, the brand upped the ante in Paris and utilized a horse pen stage setting to showcase its western-inspired collection.
Working from three different themes – Vaqueros, Phantastica and Nature & Architecture – Tajer presented distinct clothing elements based on an overarching "Future Optimist" approach. The collection featured men's and women's items in the form of leather saddles and chaps (inspired by the Vaqueros of Mexico), exposed knitwear, fringed suiting, scalloped hem shorts, low-slung tops and the brand's signature silkwear.
A warm color palette of tan, yellow, orange and blue flooded the Casablanca runway, and nods to the old western frontier were buffered by lattice beadwork, ornate color-contrast top-stitching, bolero jackets, cowboy boots and 10-gallon hats. Contrastingly, instead of pinning the collection to the wild west that the world is familiar with, Tajer instead chose to highlight Mexico's scenic nature and Oaxacan artistry.
Gaining feedback on the new Casablanca collection, Tajer exclusively told HYPEBEAST: "This collection is an expression of our brand philosophy, Future Optimisto, which is about looking for the beauty in the world at all times, even in the worst storm. We translated this through the profound sense of freedom experienced by the Vaqueros in the West of Mexico, the healing power of psychedelics and the harmony of man-made design, in combination with the fluidity of the natural world."
"It took me more than 10 years to understand that I could call myself a designer, especially coming from where I'm from. But when I was young, I did an internship and worked backstage at a Rick Owens show, and that's when I understood that every aesthetic can find its audience. Don't be shy. There isn't only one way. You can express yourself from every different angle," added Tajer.
The SS23 collection also introduced a new sneaker for the brand, which Tajer calls, "the Arch." Labeling it as a turning point from the previous 'Atlantis' sneaker. Additionally, a Zapotec poem T-shirt (written by Natalia Toledo), has been made available for purchase in collaboration with the brand.
Access to the full Casablanca SS23 collection and the Toledo collaboration can be found on the brand's website.
In case you missed it, Doni Nahmias presented an elevated skate-meets-surf collection for Spring/Summer 2023.
Click here to view full gallery at HYPEBEAST