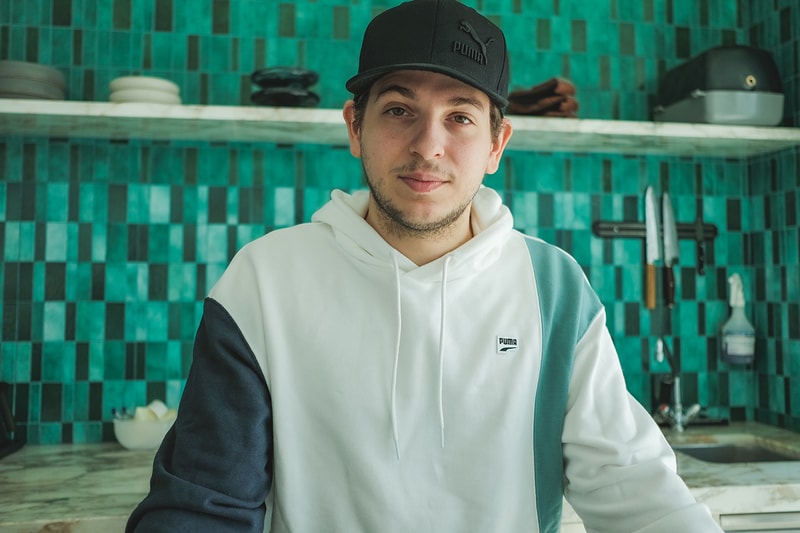 Blending traditional Middle Eastern and Japanese flavors to create a unique culinary fusion, MOONRISE is the UAE's best-kept secret.
Located on the rooftop of a luxury residential tower overlooking the Dubai skyline, MOONRISE only has an eight-seat capacity and serves a range of artisanal dishes on its tasting menu. Despite it boasting an air of exclusivity that generates a coveted demand, this has been purpose-built to provide an intimate Omakase dining experience.
Starring in PUMA's latest headwear campaign, HYPEBEAST caught up with head chef and founder of MOONRISE, Solemann Haddad to discuss the relationship between food and fashion, and why both are equally as important in fulfilling self-expression.
HYPEBEAST: What dish is MOONRISE most known for?
Solemann Haddad: It has to be our Chuttoro Gunkan with dates and local honey glaze. It's the only dish I've ever made that I still don't get bored of tasting every week. We make the sushi rice more acidic to balance out the sweetness of the dates. It sounds odd on paper, but it's my favorite, as well as one of the dishes that people always come back for.
Who has been your most memorable patron?
H.H Sheikha Latifa Bint Mohammed Al Maktoum. It was one of the most stressful services of my career because we wanted to make sure everything was perfect, but definitely the most memorable.
As a chef you're usually secluded in the kitchen, how do you express yourself?
Through my dishes. 99% of my creative energy is invested in my work.
What is the relationship between food and fashion?
Both are an expression of one's creativity, background and experiences.
How does the art of Japanese cuisine translate into your clothing?
I like to keep it simple, sharp and comfortable.
What do you like wearing when cooking?
Baggy cargo pants and massive comfortable shoes. Caps too. I always have to wear a cap.
What completes an outfit for you?
Colors, layering and textures. These are the same criteria I use for my dishes.
Where do you find inspiration for your style?
My friends. Mainly Cheb Moha and Misbah. They have a really good sense of fashion, so when I find that I've been too busy with work I copy their homework. They hate it just as much as it flatters them.
What's your earliest memory of PUMA?
I had a crush on a girl when I was 7 that always wore the same PUMA sneakers. That's my first ever interaction with the brand.
What piece of clothing represents Dubai?
Hats, everyone wants to keep the sun out of their eyes.
Check out the images of Solemann Haddad working in his kitchen in the gallery above. For more information on PUMA's headwear campaign, visit the brand's website.
Click here to view full gallery at HYPEBEAST