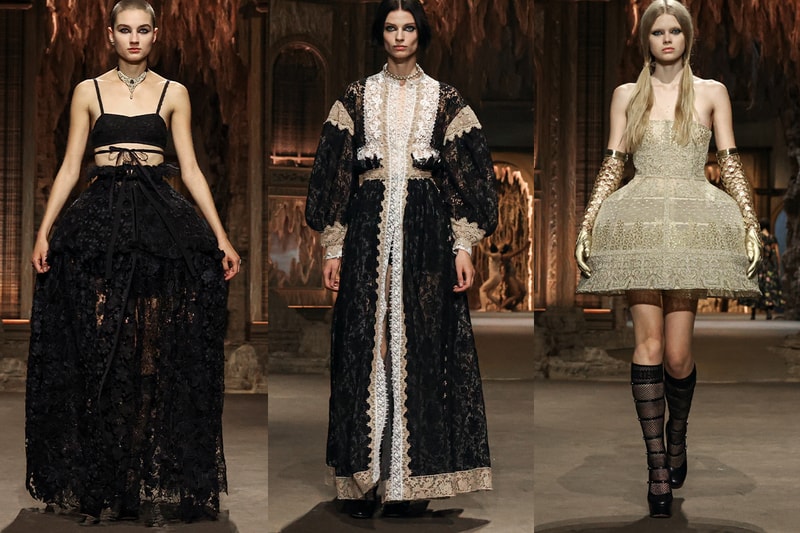 Under the Creative Direction of Maria Grazia Chiuri, Christian Dior is the womenswear counterpart to Kim Jones' Dior, and the two couldn't be further apart if they tried. Whereas Jones welcomes frequent collaborators and artists to interpret his menswear with a thread of inspiration from Monsieur Dior's past, Christian Dior's womenswear is highly indebted to the legacy of the house, while singlehandedly transforming the house as she has done with every label she's worked at (notably holding Valentino down for 17 years before switching to Christian Dior following Raf Simons' departure in 2015).
At the house, Grazia Chiuri focuses on female empowerment, using silhouettes, structure, technical advancements in fabric manipulation and more to accentuate the wearer and their body. For Fall 2022, this was explored with a tactile and sporty thread, completely contrasting the opulence of Fall 2022's couture offering or the historical glamor that infiltrated Resort 2023.
For Christian Dior Spring/Summer 2023, the season continues with the theme of female empowerment, looking towards the very specific Baroque period in the 16th century. Grazia Chiuri still takes inspiration from the Tuilieries Garden where Dior's ready-to-wear women's is usually presented. She is drawn to the location as she finds Catherine de Medici, an Italian noblewoman who remains an emblematic figure to the French court due to her representation of women and power.
The Baroque period saw fashion for women evolve to include darker colors and more flamboyant patterns to embrace the natural, curvy female silhouettes. The collection stays true to that era's styling motifs, including lace collars as decorative accessories, virago sleeves and long gowns featuring low necklines. The movement of the gowns and flowing lines inspired Grazia Chiuri's short and long dresses. The overall color palette of the collection stayed in the Baroque period style, featuring most looks in white, black, off-white, gold and floral. The collection brings back the corset, an integral part of the period, with an updated "quasi-geometric shape." Dior stays true to the exaggerated motions, exuberant details, and grandeur characteristics of the period for the SS23 collection
Take a look at the SS23 collection from Christian Dior above, and find more Paris Fashion Week SS23 content across Hypebeast.
Elsewhere in fashion, Daniel Lee has officially replaced Riccardo Tisci as Chief Creative Officer of Burberry.
Click here to view full gallery at HYPEBEAST