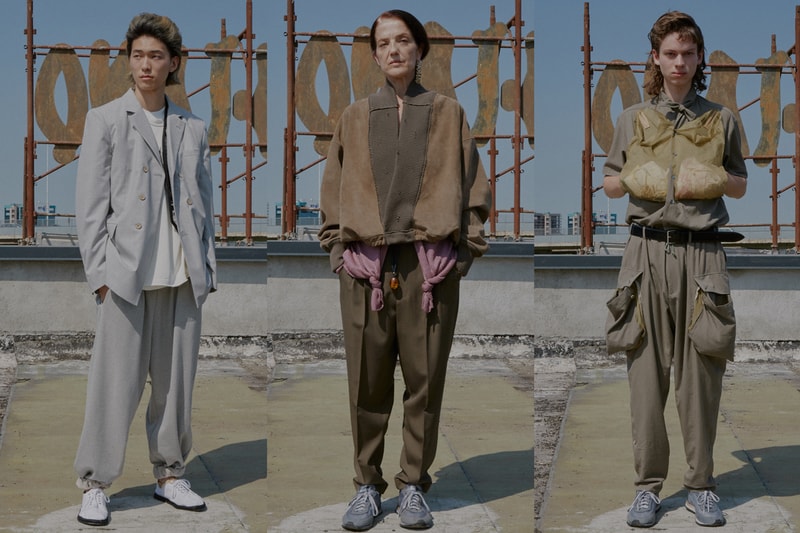 Luca Magliano's eponymous label Magliano took to Milan Fashion Week with a slower pace, presenting his Spring/Summer 2023 collection in a sparse warehouse that was as authentic and original as the increasingly-emerging designer's collection itself.
Split into two themes -- the darkness and the awakening -- Magliano presented a collection of two kindred spirits. On one hand, drowning oversized suits met pajamas, graphic sarongs found companionship alongside elongated trench coats, and '70s sweater vests tucked into high-waisted pants served a strong contrast to the dishevelment of dirtied, stained jeans and a brown polo.
Magliano's nighttime vision is soothing and deconstructed, disassembled and then reassembled with recycled scarves banded around the jackets themselves. Garments envelop the wearer, while soft organza, silk, cottons and knits caress them simultaneously, transferring them from night to day.
Throughout the collection is the running theme of a blue-collar environment -- a gray shirt is overlayed with a panel of organza to create a tactical vest aesthetic, and suit trousers are fitted with oversized, bulging pockets. Unlike the CEO of the company these suits are not tailored to every inch and seam, instead allowing the wearer to breath, letting the fabric wrap around them literally and figuratively.
It comes to a head with Magliano's selection of shirts. As the show notes read, "A memory resurfaces melancholically as a souvenir of a happy moment. The Hawaiian shirts are a tribute to faraway places, talismans of joy, shirts made of old shirts that recall memories of an uncertain past. The collection is fluid, rough, crumpled. Inside those garments, someone has dreamt there."
Take a look at the Magliano SS23 collection in the gallery above, and stay tuned to HYPEBEAST for more Milan Fashion Week coverage.
For more loose tailoring, check out the latest collection from Emporio Armani.
Click here to view full gallery at HYPEBEAST