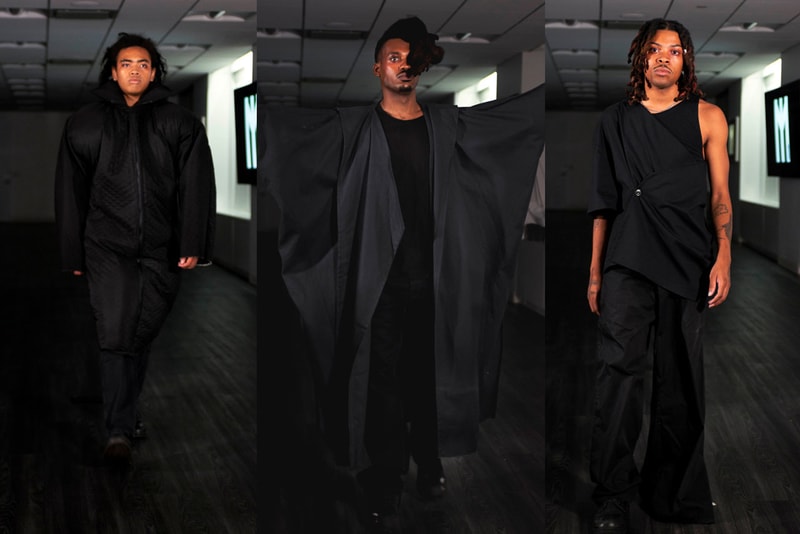 With any label, emerging or established, it is easy to fall prey to the business of fashion that prioritizes wearability. In that same vein, consumer-focused garments are its cousin, which can sometimes yield a less than exciting product. But for some emerging designers like Tyrone Smith of Musty Corp, the business is not the main focus, the clothes are. In Smith's case specifically, he just wants to make quality, yet unorthodox pieces that extend a message or two along the way.
The Boston-born and New York-based label recently presented its debut runway show titled "The Trilogy" for the Spring/Summer 2023 season. Held in one of the first gothic-inspired skyscrapers in NYC's Financial District, the collection presented a vision of contemporary avant-garde styles. Appearing almost entirely in black with cuts of calacatta gray, cedar and crimson red, the collection came to be through a series of both sculptural and deconstructed ensembles.
Suiting was met with warped triangular shapes on the arms and legs while jackets harbored strong and elongated shoulders. Calmer yet still eye-catching pieces took form in layered tops, asymmetrical wrap tops and voluminous pants with wide-cut constructions. A highlight of the collection is a Super 180 wool suit finished off with wax detailing. As the piece moves through time, the cracking and determination of wax are meant to reveal both a more comfortable and revitalized ensemble.
But like most avant-garde designs, the garments typically accompany a greater message. Prior experiences of Smith's encouraged him to produce pieces that challenged conventional dress notes and the societal status quo. Like the aptly-named collection title, the collection was divided into three parts. The first five garments grappled with understanding systemic racism, the following few revolved around moving through that experience and the final looks discussed understanding loss.
Alongside the discussion of trauma and healing, Smith's pieces like the wool-wax suit and reconstructed jackets called attention to excess consumerism. By crafting un-neat designs that are meant to evolve through time, Smith's garments added a new layer to the discussion of fashion sustainability and preservation.
"When you're looking at silhouettes from different parts of the world and then connecting them to how you feel and understand, you're always going to end up in a space of avant-garde," said Smith. "You're always going to end up in a space of non-trend."
Take a look at Musty Corp's debut runway collection in the gallery above.
In other fashion news, CFCL's new collection presented a range of volumes for Spring/Summer 2023. 
Click here to view full gallery at HYPEBEAST