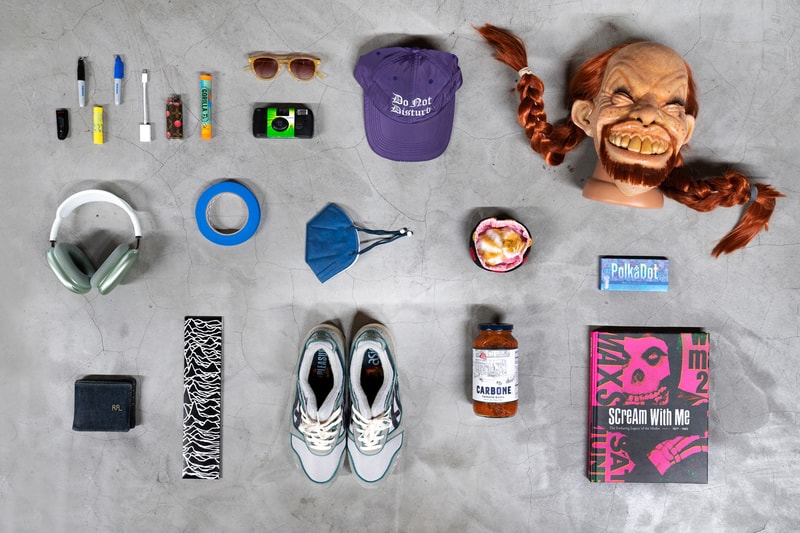 For our latest installment of Essentials, we speak with Alex James, the co-founder and director for Los Angeles-based streetwear label PLEASURES.
James established the brand with his friend Vlad Elkin in 2015, taking inspiration from punk rock and hardcore scenes, vintage clothing, and different subcultures they were into. While staying true to its roots, PLEASURES has continued to connect the dots across different communities and brands over the years, delivering everything from '90s zine-inspired mules with Dr. Martens, overseas activations and joint capsules with Bodega, and incense with Kuumba capturing the essence of Unknown Pleasures by Joy Division as pictured above.
Having appeared on Essentials during the brand's infancy in late 2015, we catch up with James once again to capture his evolving tastes. Follow us below as he dives into the stories behind his select picks, offers HYPEBEAST a first look at the upcoming PLEASURES x Asics Gel Lyte III, and shares some of the favorite songs currently on his playlist.
Aphex Twin Richard D. James Replica Latex Mask
Aphex Twin is one of my all-time favorites. The "Come to Daddy" video gives me chills every time I watch the video. This creepy replica latex mask is even scarier in person. Richard D. James is an icon and I am proud to own this piece.
Joy Divison x Kuumba "Unknown PLEASURES" Incense, Custom Louis Vuitton Lighter Case by Etai Drori
Kuumba makes the best incense in the world, period. When I asked Eiji to create a scent based on the sounds of the album, he was honored and excited. The end result was a dark perfect scene matching the vibes of the album. My happy place is burning a stick while listening to the album on repeat. The best way to not lose a lighter is to have it encased. Etai is a wizard and gave me this case years ago. I use it on the daily.
Scream With Me: The Enduring Legacy of the Misfits
Jeremy Dean aka Deans Nuts gave me this book a few years back. My affinity for The Misfits runs deep. The beautiful book documents the important history of the band through archived ephemera. Out of print now but this is highly recommended.
PLEASURES Disturb Hat
One of my favorite hats we've ever made. My biz partner Vlad has this tattooed on his arm. It's a strong message during a COVID world and an even stronger message when I wear this hat at the gym.
PLEASURES x Asics Gel Lyte III
The Gel Lyte III is an iconic piece in the history of sneakers. From the split tongue to the overall styling, it's truly unique. For this special collaboration, I wanted to focus on adding binding to the seams of the shoe to give it more depth. The overall color story screams normcore with an ode to vintage runners. I love the final product. Stay tuned for release details!
What role do musical influences play in your life and the PLEASURES identity?
Music is the pulse of my life. It's my language and the overall inspiration for my brand.
Has your vision for the brand shifted since its inception in 2015?

Our ethos hasn't really shifted. We want to educate and " put people on" to the music, art, and subculture that inspires us.
How do you approach collaborations and select which band or brands to work with?
We only work with brands we truly listen to. We put our whole heart into each project.
What are some songs currently on your playlist?
Vazz - Breath
Spice - Recovery
High Vis- Talk for Hours
Fountaines D.C. - Roman Holiday
Portishead - Machine Gun
N.Y.P.D. - GAI GAI
Pinky Ring - Joy Obrison
Pavement- In The Mouth of A Desert
Desendents- Good Good Thngs</blockquote
Click here to view full gallery at HYPEBEAST