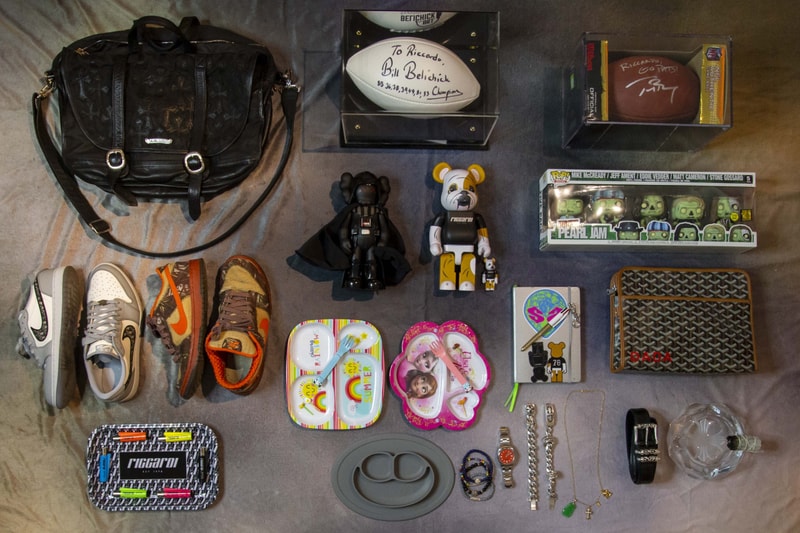 Nestled amidst the lowrise brownstone buildings of Boston's bustling Newbury Street is Riccardi, a two-story family-owned boutique that recently celebrated its 40-year anniversary.
Established in 1978, coincidentally the same year Larry Bird was drafted by the Celtics, the shop operates as a brick-and-mortar luxury retailer that prides itself on finding and supporting emerging designers. Originally founded by his parents Riccardo Sr. and Anna Dallai, Riccardo Dallai Jr. has now taken over Riccardi as owner and curator. "Since we opened, we have had clients who shopped with us, and now their kids and grandkids shop with us," shares Riccardo Jr. While looking to offer something for everyone, visitors of the boutique will discover a vast assortment of grail RTW pieces from brands such as Sacai, Dries Van Noten, Balenciaga and much more. "As a specialty store, we love buying wow-factor pieces that you wouldn't find at a department store," says Riccardo Jr.
For our latest installment of Essentials, Riccardo Jr. shares the stories behind his everyday staples and sheds light on the decades-long history of the store, from being one of the first in the country to carry Chrome Hearts to collaborating with Medicom Toy to develop a BE@RBRICK based on his father's bulldog.
Custom Goyard Jouvence Pouch
This is a Goyard Jouvence personalized with DADA. My kids, Aurora, 6.5, Gaia, 5, and Leo, 15 months, are my world, which is why their plates are included too — breakfast together is the best part of my day. They gifted this to me for Father's Day last year. I always travel with it!
Chrome Hearts Chain, Jade Pendant
A Chrome Hearts gold chain with a Chrome Hearts cross, which was my mom's. A jade pendant, which was a gift from my in-laws when Leo was born, and charms that keep me protected (I am very superstitious).
Rolex Oyster Perpetual 41mm "Coral Red" Dial
A surprise 40th birthday present from my wife, Valerie. She reserved it the day it was released and my only comment besides "thank you!" was "did you pay retail?!"
Riccardi x Medicom Toy Be@rbrick 40-Year Anniversary Edition
I have been collecting Be@rbricks since 2003, and Riccardi was one of the first accounts in the country to sell them. It was a pleasure to work with the team in Japan to make this as a surprise for my father. His bulldog Baxter, wearing a jersey with the year we opened, was the best way to honor him.
Signed Bill Belichick Football
If you know me, you know that I am a huge Boston sports fan, we are the elite when it comes to sports cities! No matter the season, there is someone to cheer for. The ball is a constant reminder of how to be an example of excellence.
How has Riccardi evolved over the years since its inception and in what ways has it stayed the same?

Our identity has always been and will forever stay customer service-focused! Our clients and how they feel about their Riccardi experience is our top priority in the early days my parents were traveling to Europe and bringing new and innovative designers to Boston (Jean Paul Gaultier, Comme des Garcons, John Galliano, etc.) as many did not consider Boston to be the most fashion-forward. The store has always remained runway focused and for over 40 years we continue to push the boundaries and bring our selection/representation of each designer.
Has your average customer/customer base changed since the beginning?

We cater to everyone, and I would like to think we always have because of the exceptional vendor matrix we have. There is something for everyone, and as a specialty store, we love buying wow-factor pieces that you wouldn't find at a department store. Since we opened, we have had clients who shopped with us, and now their kids and grandkids shop with us. International students, tourists... we have seen an increase in a younger demographic of shoppers as well with the exposure of fashion from Instagram, etc.
What's your process behind curation?

When the store originally opened, it was to bring European and Japanese designers to Boston. We have always been first believers in brands and pride ourselves on being able to introduce the U.S. to some amazing brands (Neighborhood, Original Fake, Medicom Toy). We were among the first to carry Chrome Hearts, we invested in Virgil's original collection, Pyrex, we had the first collection of Celine Men's, we were the first store to carry Gallery Department on the East coast, etc.
What are your feelings towards Boston? What do you recommend people check out in the city?

Come to Boston! Besides having one of the best RTW stores in the country, we have incredible architecture and the city is so easy to cover in one weekend. The Waterfront area has evolved into a thriving bar and restaurant scene. A walk along the Charles River is a must, lobster roll from Saltie Girl, incredible Museums (MFA, ICA, Isabella Gardner Museum), etc.
Are you looking to expand more into e-commerce?

Not at the moment. We have historically been an in-store business — our focus has always been on providing the best customer service, and we pride ourselves on that. Who knows though it may change in the future.
We noticed your collabs with mastermind and Medicom Toy for your 40th-anniversary celebrations. Are you looking to do more joint projects in the future?
We are always looking to collaborate with new partners for exclusive merchandise. We recently partnered with our friends at Sinclair Global to create a fun "Sincardi" drop. There are more exclusive capsules to look out for starting this summer, including our own Riccardi gear releases.
What do you attribute to the longevity of

Riccardi

? 
Curation is definitely a factor, but we are lucky to also work with great people, from our vendors to our store employees to our clients.
Click here to view full gallery at HYPEBEAST