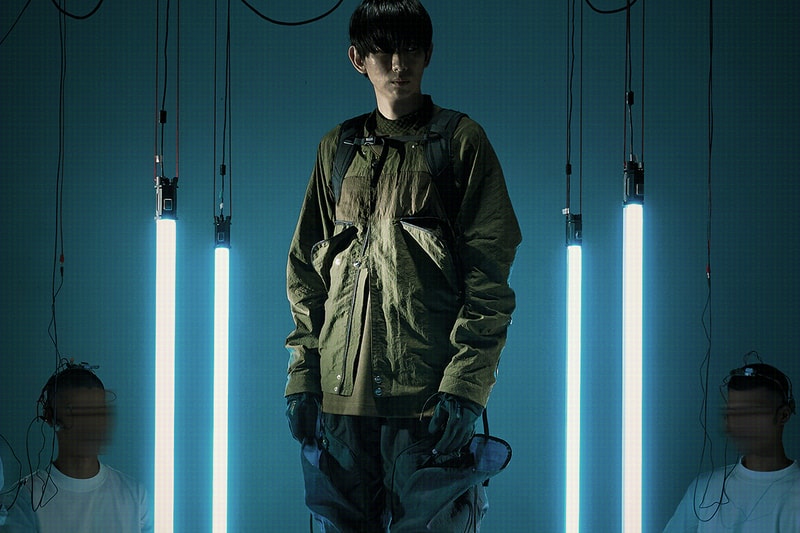 Following its OSVI Season 04 "KONSTRUKT II" collection, Guerrilla-Group has now unveiled its latest offering range. The label describes the OSVI Season 05 "REKONSTRUKT" collection:"'Like somebody who sees things when he's dreaming. And after the dream lives with the aftermath. Of what he felt, no other trace remaining, So I live now..' Many are dissatisfied with their existence in New Reality. Many wish to renew, to rebuild, or rewrite who they are. It is said that such a thing is possible by returning to the liminal space between realities, only here can someone truly REKONSTRUKT."
This time around, the narrative structure of Guerrilla-Group's design continues to develop unique military-influenced technical design systems. "Transformation" stands as the main design concept, utilizing zippers, deconstruction, folding, different fabric combinations, displacement, along with other techniques to create convertible silhouettes. The variety of wearing interpretations come in the form of a transformable suit jacket, a hooded jacket that breaks down into a balaclava and short jacket, and a pair of suit trousers with zippers.
Material construction for the OSVI Season 05 "REKONSTRUKT" collection focuses on Italian OLMETEX® for its translucency, abrasion and water resistance. While a mixture of 3XDRY®, ECOYA®, SOLOTEX® and other technical fabrics lend varied functionality to offerings found throughout the range.
Check out the range above and shop the OSVI Season 05 "REKONSTRUKT" collection now on Guerrilla-Group's website.
View this post on Instagram
For more contemporary fashion, CARNIVAL tapped Initial D for its "First Stage" collection.
Click here to view full gallery at HYPEBEAST