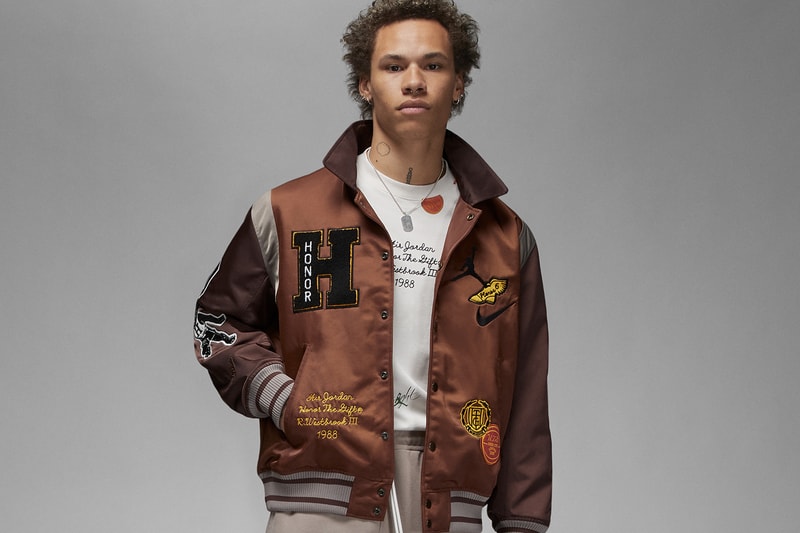 Russell Westbrook's Honor The Gift has released its lates collection, this time collaborating with the Jordan Brand. The partnership further cements Westbrook's relationship with the label, having released his sixth Jordan Brand signature shoe at the end of December 2022.
From dunks to off-court fits, the Jordan Brand x Honor The Gift collaboration has come together to showcase Westbrook's off-court style. In a selection of muted earth tones, the collection features oversized sweaters and sweatpants, boasting comfort and graphics that embody the ethos of the brand. With shoutouts to both Michael Jordan and Westbrook, the graphic gives a nod to Westbrook's birth year and the game of basketball.
The collection also features a nylon varsity jacket in brown, featuring embroidery and patches that allow fans to rep both players. To further honor two greats, the collaboration also includes an extra-roomy t-shirt inspired by Westbrook's coming-of-age story in the Inner City of Los Angeles. Accessories available with this collaboration include a bucket hat and backpack featuring similar graphics.
The Jordan Brand x Honor The Gift collection arrives on February 9 at 9 a.m. PST online at Honor The Gift and at the flagship store in Los Angeles.
In other fashion news, BBC ICECREAM Spring 2023 collection gives a refreshed take on archived graphics.
Click here to view full gallery at Hypebeast