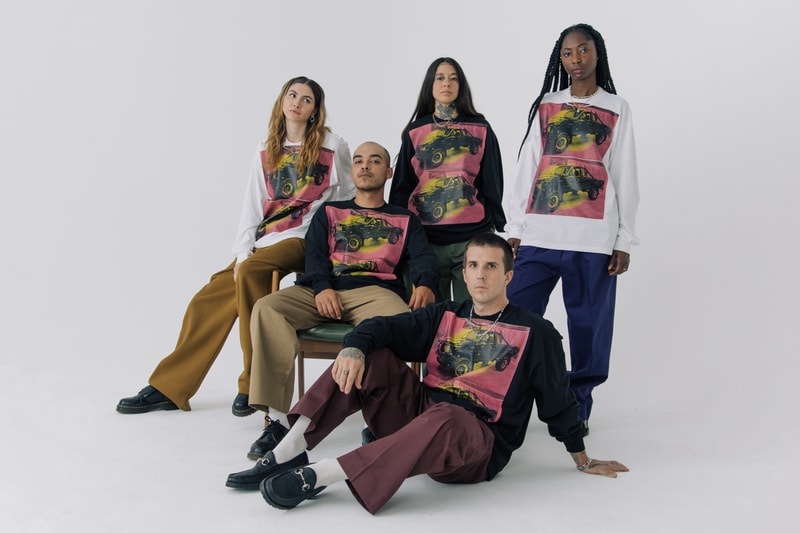 Located at the intersection of beverage and fashion, House of Miracles is the latest evolution in an ongoing collaboration between B. Thom Stevenson and Jason S. Wright. Through its "Question Reality™" collection, House of Miracles is launching dynamic designs that channel the artists' ideas and studio practices into apparel for other creatives.
Guided by the Miracle philosophy that "one should never accept never accept life as it is, question everything," the duo brings their eclectic styles to Miracle Seltzer, a lifestyle brand, and, now, House of Miracles. The "Question Reality™" collection consists of handmade garments with oversized graphics like the Psychology Sweatpants, which has a stack of B. Thom's Elvis paintings, and the Horses Long Sleeve, which has hand-drawn suns."I like to think the suns are UFO's and the horses are having a close encounter of the third kind," explains B. Thom.
Operating as collaborative studio and creative practice, House of Miracles acts as an outlet for both artists to push the boundaries of their work while making new connections in the universe. "We try to make pieces that we haven't seen before, that draw from many pools of inspiration yet come out completely fresh," says Wright. To unpack the ideas behind House of Miracles' first-ever apparel release, HYPEBEAST chatted with the duo about how "Question Reality™" was developed and the creatives in their communities.
HYPEBEAST: How long has Miracle Seltzer been around? Why did you decide to launch apparel now?
Jason S. Wright: Miracle Seltzer came into the world as a Cady Noland inspired installation at a storefront in Chinatown NYC in 2019 that coincided with Printed Matter's NY Art Book Fair. We lined the walls of our friends' shop, Token, with 10,000 cans we had made on a whim and a prayer. Since then, Miracle has taken on many forms in the art world, acting as a platform for us to collaborate on projects we dreamed of with our friends. We've made garments but this was our first time taking the necessary time to create a proper collection, attention to detail, infusing our philosophy into every stitch.
B. Thom: Dimes Market, and Mission Chinese reached out to carry us and 3 years later, this art project has turned into a business. Miracle still functions as an extension of our studios and bridge between Jason's and I's art practice.
What was the collaboration process between the two of you while developing the "Question Reality™" collection?
JSW: B. Thom is a prolific painter and is constantly creating imagery. I paint, but my practice is more akin to something between an archivist and a writer with a design background. Working with B. Thom is a dream come true because rather than pillaging old magazines for inspiration, I have my favorite painter's original pieces to work with. From there, we arrange, compile, edit and curate, see what sticks and tells the best story.
BT: When designing, Jason and I pass the imagery back and forth like some elaborate exquisite corpse or some surrealist parlor game for the digital age. Cloud-based Dada. [We] like to pick a theme in the form of a big idea to act as a theme when designing. "Question Reality™" is a direct reference to the world we live in NOW as well as a timeless and boundless idea that encompasses the other concepts we were playing with in this body of work.
What kinds of places or situations do you imagine that fans will wear apparel from House of Miracles?
JSW: Our garments are meant to be worn and worn well. They are art pieces, so they can go anywhere. We love the idea of them breaking down over time from everyday use. Splatters and stains from studio usage adds to the dialogue between ourselves and the customer. That's what this is all about, our art taking on a new life and going places our works on canvas generally don't get to go.
BT: A lot of the inspiration comes from what we wear on a regular basis. They're made to be comfortable and functional. We designed this as workwear for the artist, and we made things we are wearing in the studio. The studio tote was designed to fit a 12 pack of seltzer, a MacBook, and supplies to bring the studio. I had a great conversation with artist Taylor Stewart (who's currently showing at Paradise Gallery) about how important it is to be comfortable to make good work.
Is there anything else you'd like to add?
JSW: If this collection inspires you to do anything, we hope that it'd be to look for a Miracle each day. And if you are reading this and feel like you really need a Miracle, reach out to us, send us an email, we've got you covered.
Thanks B. Thom and Jason. 
View this post on Instagram
Released on June 4, the "Question Reality™" collection from House of Miracles is now available at its website, with prices ranging from $40 USD to $200 USD. To keep up with the latest releases and more artwork from House of Miracles, follow them on Instagram at @miracle_seltzer.
Click here to view full gallery at HYPEBEAST