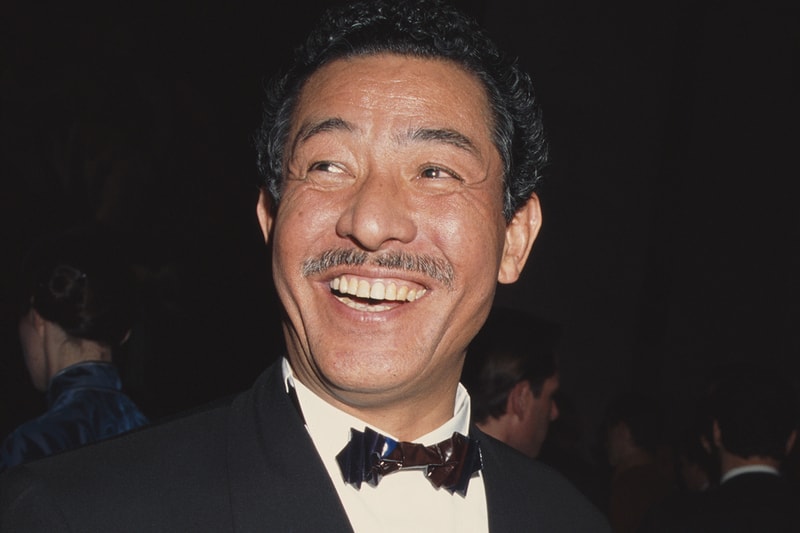 The Japanese fashion designer Issey Miyake has died aged 84.
Miyake was born in Hiroshima Prefecture and went on to study graphic design at Tama Art University in Tokyo, before moving to Paris in 1965 to study at the tailoring and dressmaking school École de la Chambre Syndicale de la Couture Parisienne.
The legendary designer worked for four years behind-the-scenes with teams at Guy Laroche, Hubert de Givenchy and Geoffrey Beene, and by 1973 Miyake was displaying his own work within a Paris group fashion show, introducing one of the most fundamental components of his aesthetic -- layering, wraps, and folds within garments.
Miyake is best known for his PLEATS PLEASE and HOMME PLISSÉ ISSEY MIYAKE diffusion lines, as well as a mainline brand that explores some of the designer's most experimental efforts. From his staff essentials to the grail-worth Oil Slick Parachute Coat, his frequent use of draping for cape-like shrouds and of course pleating, Miyake leaves behind a legacy of incredible fashion that changed the way we look at clothes.
His work transcended trends and gender roles, exploring fluidity as well as structure through innovative methods -- something Hypebeast learned more about when we spoke to the brand about its HOMME PLISSÉ pieces.
Miyake's work was one of a true vanguard. In 2006, he was the first fashion designer to win the Kyoto Prize in Arts and Philosophy for lifetime achievement, and has since seen his collections come together in a 2016 exhibition at the National Art Center in Tokyo, as well as in various archives and personal collections around the world.
Per Reuters, Miyake died of hepatocellular carcinoma -- a common form of primary liver cancer -- on August 5.
The Miyake Design Studio and the Issey Miyake Group have also issued an official statement:
Dear Friends,

It is with heavy heart that we must inform you that Issey Miyake, designer, and founder of the Miyake Design Studio and the Issey Miyake Group, passed away on August 5th, 2022, at a hospital in Tokyo, surrounded by close friends and associates. The cause of death was hepatocellular carcinoma. He was 84 years old.

As per Mr. Miyake's wishes, there will be no funeral or memorial service.

Miyake founded the Miyake Design Studio in 1970 and over the next 50 years produced revolutionary designs geared toward addressing the needs of contemporary lifestyles. Never one to embrace trends, Miyake's dynamic spirit was driven by a relentless curiosity and desire to convey joy through the medium of design. Always a pioneer, Miyake both embraced traditional handcrafts but also looked to the next solution: the newest technology driven by research and development. He never once stepped back from his love, the process of making things. He continued to work with his teams, creating new designs and supervising all collections under the various Issey Miyake labels. His spirit of joy, empowerment and beauty will be carried on by the next generations.

With deepest gratitude for all your support,

The members of Miyake Design Studio and the Issey Miyake Group.
Click here to view full gallery at HYPEBEAST