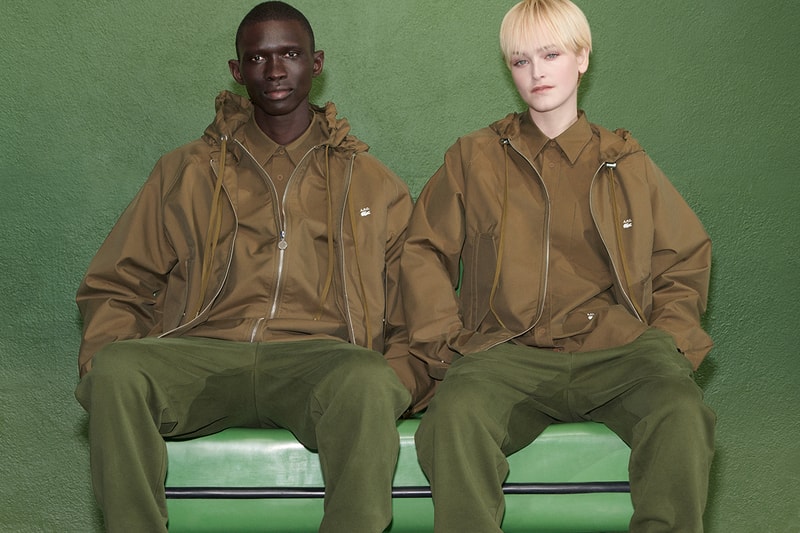 In recent years, Parisian label A.P.C. has cast the net far and wide for its INTERACTION series of collaborations. Chitose Abe's sacai took the reins for INTERACTION#9, before Los Angeles store RTH and London's GIMME 5 joined for the next two installments. The 12th and 13th interactions saw A.P.C. joined by two long-term collaborators – Suzanne Koller and Jessica Ogden respectively – before the label announced a partnership with Lacoste for its latest release.
"It's like musicians jamming, it's like chefs cooking together," A.P.C. founder and creative director Jean Touitou tells HYPEBEAST of the label's collaboration strategy. The collaboration with Lacoste is a continuation of this, with Touitou and Louise Trotter bringing their own ideas as well as the archives and heritage of their brands. "It's probably magic," Touitou continues, "Louise could understand our ideas without any struggle."
For Trotter, who joined Lacoste as creative director in 2018, collaboration with A.P.C. brings with it her own personal memories. "I can recall the first store in Paris on rue de Fleur that I used to religiously visit on my first trips to the city," she says. "A.P.C. was part of my Parisian experience long before Paris became my home. Bringing together A.P.C. and my work at Lacoste felt totally natural."
The collection itself mixes each brand's identity, with sportswear pieces and military references sitting alongside '90s influences. A.P.C.'s signature denim is used on a windbreaker – which comes in navy blue nylon and khaki gabardine – while the Lacoste polo is reinterpreted with an oversized fit and a patchwork construction. Running throughout the collection is a focus on everyday items and essential pieces.
"Collaborations are about dialogue, being open to other philosophies and to bring together creative minds."
This idea of a "daily uniform," as Trotter calls it, is an important link between A.P.C. and Lacoste, in terms of both their work and how Trotter and Touitou dress. "Jean has worn a Lacoste polo for years, because of which he has become a connoisseur," she says. "At the same time, I have been wearing A.P.C. denim for decades, swapping the "worn in" for new with my husband every Christmas. We wanted to collaborate on those everyday icons sharing personal knowledge, with the goal of bringing different viewpoints. The smallest of details created long discussions." Approaching these discussions, Touitou certainly brought his own knowledge. "I have tried to achieve such essentials for 35 years now," he says.
While the essential pieces are a nod to each brand's ethos, the collection is filled with other references to their identities. The collection's color palette focuses heavily on khaki green and navy blue, which, Trotter says, celebrate the "utilitarian codes of A.P.C." and "classic Lacoste neutral" respectively. Another indication of how the brands have worked together is the capsule's logo, which mixes A.P.C. branding with Lacoste's well-known crocodile. "The collaboration is the unification of our brand logos, which came together in a very immediate and effortless way," Trotter says. "It sums up the process of working with Jean and his team."
As well as being an extension of A.P.C.'s INTERACTION series, this collection is also a continuation of Lacoste's embrace of collaborations, opening up the archive to new voices and visions. "Rene Lacoste was continuously looking to improve his game and his ideas. Collaboration is an opportunity to see things in a new way and to learn," Trotter adds. "Collaborations are about dialogue, being open to other philosophies and to bring together creative minds. But most of all, to create clothes that people can love and cherish."
The full collection – which also includes sneakers, socks, a giant tote bag and a collaborative candle inspired by a stroll to the tennis courts in Luxembourg Gardens – is due to release on June 8.
Click here to view full gallery at HYPEBEAST