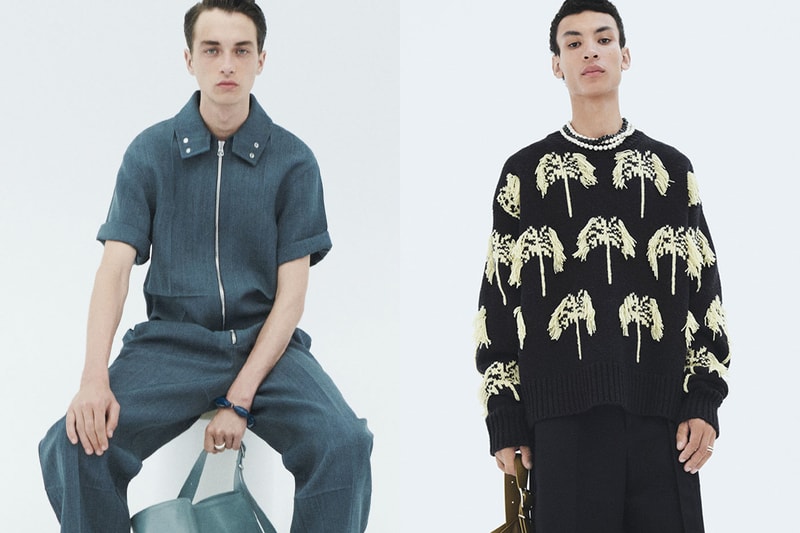 Returning with its Resort 2023 collection, Jil Sander develops an expansive aesthetic pointing towards an outlook of change for the label. "The clarity, the elongated lines, the ocean sky gradients and palm tree prints, the overarching sense of ease and elegance suggest freedom, new territories, endless horizons. A vision and a continuous change of perspective," Jil Sander writes in a description for the new collection.
For the season, Lucie and Luke Meier, the Creative Director duo behind Jil Sander, put together a color palette that effortlessly shifts from white to black through butter, cream, sand, pastel yellow, pink, pea green, gray, indigo, silver and rose. While iridescent and oneiric hues of sequins and prints provide select explorations of flair.
The designers built on the sartorial language of Jil Sander, challenging stereotypes to mash masculine and feminine aesthetics in the deconstruction of the men's suit. Replacing the classic jacket with round neck tank tops, shirt-jackets, trenches, and overcoats, paired with kilts, long skirts, high-waisted pleated trousers, and shorts.
Silhouettes and shapes are marked by purpose with sophisticated constructions utilizing dry wool, linen, gessoed cotton, cashmere and cotton knitwear. With shirts, T-shirts and tank tops marked by dye and colorful prints that mix innovative and traditional techniques. Rounding up the collection are a series of carrying options in a variety of shapes and footwear in the form of sneakers, sandals, creepers and boots.
"A new beginning, that's the idea behind the collection. The feeling of 1960s California, freedom, fresh starts, a brand new world, which is what we think many of us want right now. Stylistically we mixed the geometric pattern cutting of workwear with the nonconformist glamour of Hollywood and the West Coast. We wanted the feeling to be romantic and realistic at the same time, which is typical of that culture and possibly how we need to be today," said Lucie and Luke Meier.
Take a look at Jil Sander's Resort 2023 collection above.
For more contemporary fashion, ICYTO mixes racing and military references for its Summer 2022 collection.
Click here to view full gallery at HYPEBEAST