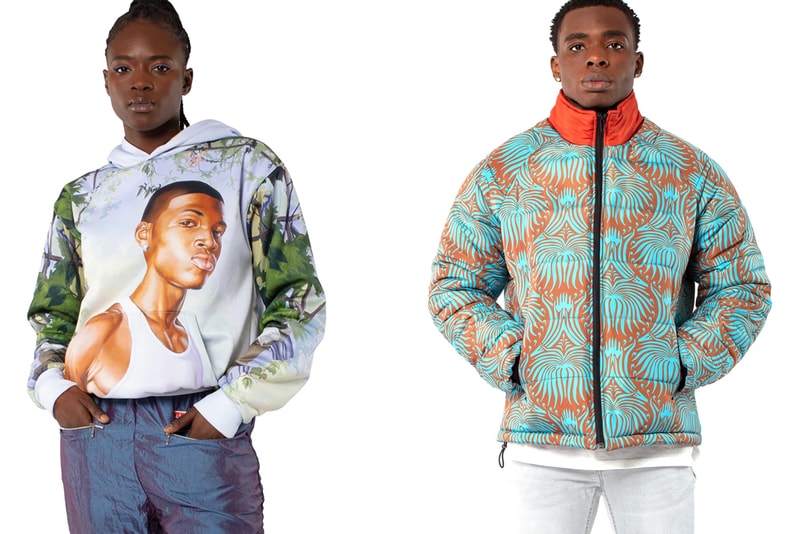 Recently honored for his work by The New School at Parsons, groundbreaking artist Kehinde Wiley has set a creative precedent within his field while accomplishing major milestones. Along with his accolades, he's aimed to push boundaries for contemporaries and the next generation of artists and has launched a new range of products for his Kehinde Wiley Shop.
Wiley's latest venture comprises a unique pop-up shop in conjunction with the Dakar Biennale in Senegal and is offering limited-edition items that include a "Simeon the God Receiver" silk robe, a "Blue Boy" candle, a portraited "Puffer" coat, a "Death of St. Joseph" painted basketball and more. Additionally, each item is exclusively based on one of Wiley's favorite archival works.
Net proceeds from the Biennale pop-up's sales will go towards Black Rock Senegal – Wiley's non-profit artist's residency program – to provide financial support for burgeoning artists to have a cross-cultural, innovative and multi-disciplinary platform.
Talking exclusively to HYPEBEAST about the BRS initiative, his shop and the new range of items, Wiley says:
"Black Rock is an organization that celebrates creativity globally but also celebrates creativity in West Africa by allowing artists from all over the world to come and create there. That celebration is perhaps the theme of Black Rock, given that what we try to do is to create a moment that frames individual voices and the creative temperature of West Africa in our time."
"I felt compelled to create a line that could support Black Rock so that the organization could grow organically and sustainably. While many people may first come to know the Shop through their familiarity with my work, it is actually an entry point to the extraordinary level of excellence of our residents and an invitation to engage on a deeper level," he adds.
Referencing his talent as an award-winning and world-renown artist, Wiley also offered a bit of advice for those following in his footsteps, stating: "Authenticity is something that cannot be ignored, that rises above all of the other cultural offerings around us. My creativity was only noticed when I stopped trying to copy the popular kids in my school and my city, the popular ideas that were being exchanged, and rather embraced things that I knew to be unpopular, but very true to myself."
"It's important for me to challenge myself and to create projects that I'm afraid of. The fear of failure and the fear of missing the mark is something that every artist should, at least once in their lives, feel compelled towards. For me, it's habitual," Wiley concluded.
More information on the Dakar Biennale and Kehinde Wiley's pop-up shop can be found on the artist's website.
In other news, Hajime Sorayama's CYBER LADIES' WORLD show continues to gain traction in Paris.
Click here to view full gallery at HYPEBEAST