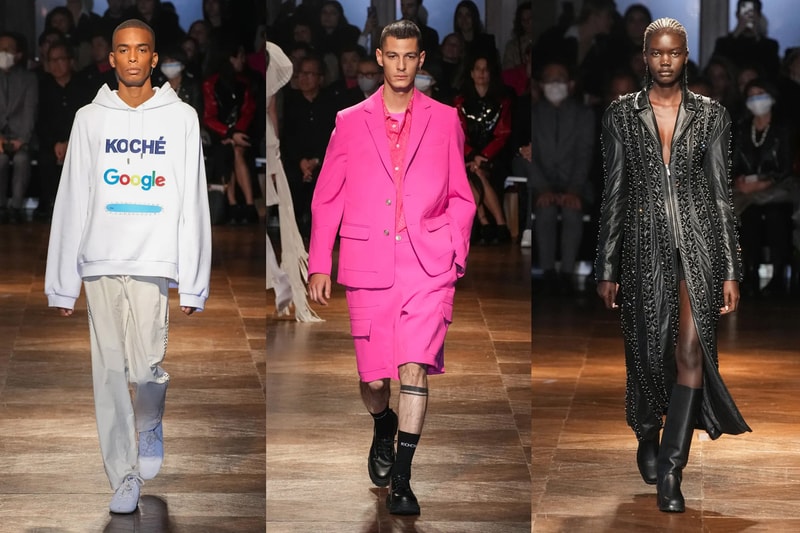 Parisian lable KOCHÉ, founded in 2015 under the Creative Direction of Christelle Kocher, is a regular on the Paris Fashion Week schedule. For the past seven years, it has made a name for becoming a collaborative powerhouse, recently working alongside AC Milan and PUMA, as well as Eastpak, Nike, Converse, and Paris Saint-Germain in the past. Much of these collaborations infiltrate its runway shows, which is also a place that KOCHÉ uses to spread diversity and inclusivity of "genders, body shapes, social and geographical origins."
With an education from Central Saint Martins and work experience at Bottega Veneta, Dries van Noten, Chloé, and Martine Sitbon, each season sees Kocher take a new and more nuanced approach to garment creation, no doubt inspired by her past at such luxury houses that pride themselves on creativity and always taking things to the next level.
Soundtracked to Pink Floyd, KOCHÉ's menswear fluttered between slinky mesh dresses and skirts with a decidedly hard edge. But as the tempo increased into euro tech, menswear comprising sparkly diamonte adorned trousers, shirts perforated with leather appliqué, and even a nod to Google appeared. Here, the supersized screen in the middle of the room played host to Google itself, asking the crowd "Do Hoodies Dream of Beautiful Sunrises?"
Did it make sense? Perhaps not. But it sure gave the crowd something to think about, as spatial audio played and more questions appeared, such as "What Was The First Question Asked?"
Cut outs from leather now transformed into cut outs in the form of patched knitwear and sweater vests made from knots.
Lashings of pink and blue punctuated work pants, barely their tops and relaxed tailoring paired with shorts, all while KOCHÉ's theme of leather decorated the garments via belts.
Contrasting, a slew of white hit the runway alongside atmospheric music, with tailoring edging on cowboy attire thanks to the leather tassel hanging from the models arm — a nod to what kicked the menswear section off in the beginning of the show.
Closing with a leather trench coat, beaded to the most intricate level, summed up KOCHÉ. Only it didn't, as the lights turned off to see the model give us one final walk — this time seeing the same coat light up in LEDs and tiny digital screens, emulating the larger one in the room.
What may feel like a mishmash of everything was in fact KOCHÉ in pure excellence. A showcase that nothing is too much when each element is intelligently thought out to tell a story — like the music, the brand explored new to old, everything in between, and the relationship we have to something that can move oneself through the power of sound and visuals, all while making us ask deeper questions.
Take a look at the SS23 collection from KOCHÉ, and find more Paris Fashion Week SS23 content across Hypebeast.
Click here to view full gallery at HYPEBEAST