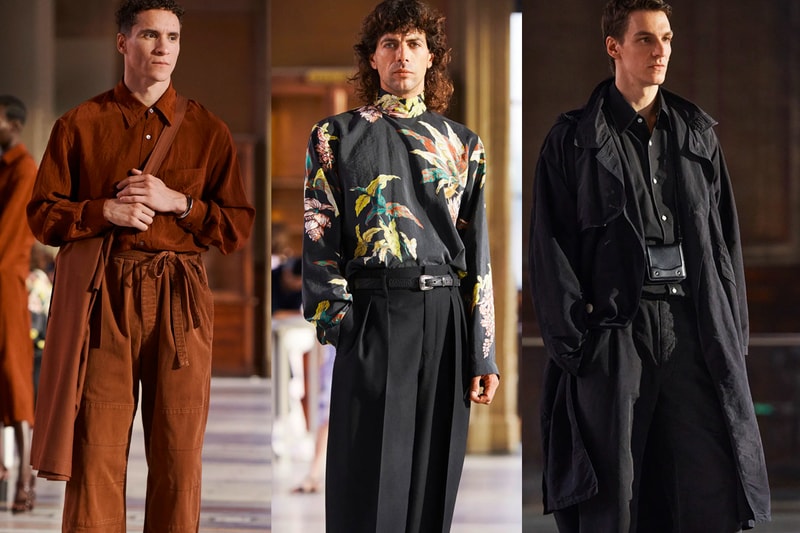 The Lemaire Spring/Summer 2023 show was not your typical runway presentation. This time around, the Parisian label invites guests on a journey through an old train station hall. From the moment guests entered the building, they were greeted by a set of models at the top of the stairs and at the entrance to the room.
In a fully immersive experience, guests were able to get a look into the Lemaire world as they walk through a room setting that lets them interact and be up close and personal with the pieces. With storytelling as a major component of their lin, the unisex collection continues to evolve with the same intention. This summer collection is a lighter wardrobe, that features airy shirts and dresses, leaving ample room for movement. The pieces give way to a flowing movement that gives off a lighter silhouette and sophistication reminiscent of nonchalant elegance.
The collection focuses on creamy hues with a shade of terracotta, combined with oxblood red and touches of ginger, baby blue and fresh pink to create a dynamic daytime color palette. Accessories add to the look, becoming an extension of the Lemaire uniform. Long necklaces with pendants are inspired by bead curtains to add movement to the effortless silhouette.
Take a look at the Lemaire SS23 collection above.
Elsewhere in Paris Fashion Week SS23, Thom Browne SS23 fetishizes punk.
Click here to view full gallery at HYPEBEAST