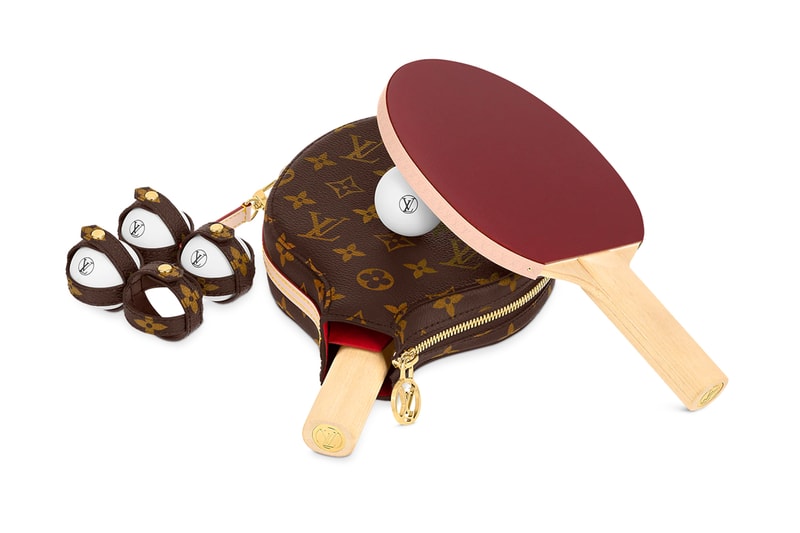 From paint can bags to leather floral bouquets and wildly-priced socks, Louis Vuitton knows how to have fun, and its latest James Ping Pong Set promises just that. It's an accessory that's been a part of the LV family for some time now, first appearing in 2017 alongside jump ropes and leather goods before making its most significant impact in 2019, when it debuted in a black and gray LV Monogram design alongside red and gold touches.
For the set's latest makeover, Louis Vuitton crafts the table tennis paddles in light wood with red pads, accenting the handle with LV hardware in a gold-toned finish alongside a soft pink monogrammed leather trim. From here, the luxury label known for its leather goods protects the set in an LV Monogram-branded cover, served in the quintessential brown and tan tone with blush trim and gold-toned hardware and zippers.
A small tag attached to the paddle holder secures four balls in place, each of which is complete with the LV signature as they sit cradled inside a Monogram-decorated holder.
Louis Vuitton's James Ping Pong Set retails for $2,280 USD and those wanting to up their game with some LV luxuriousness can cop the accessory online now.
In other news, here are eight more drops you don't want to miss this week.
Click here to view full gallery at HYPEBEAST